by robinrotham
on Mar 9th, 2014
8 Comments »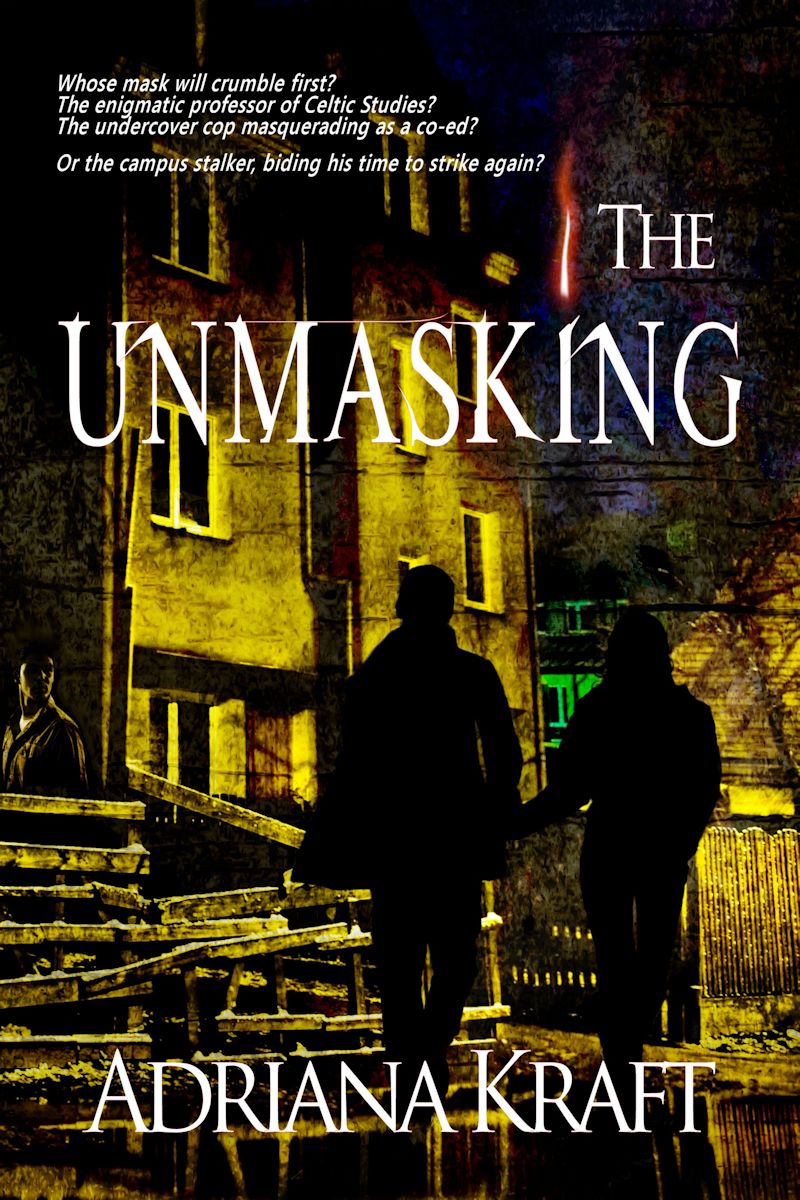 Thanks so much for having us as your guest on Smutketeers today! Hubs and I are excited about our latest release,
THE UNMASKING
, available in print and e-book at Amazon. Readers, don't forget to scroll to the bottom for our contest of the day and leave a comment to enter for one free download from our backlist. Our heroine is an undercover cop – what occupation would you most like to see featured next and why?
THE UNMASKING by Adriana Kraft
February 15, 2014
B&B Publishing
ISBN 978-0-9894693-6-4; ASIN B00IDVB6KQ
Romantic Suspense, 87,000 words
Heat rating: Four flames
It's All About the Research
Authors of erotic romance often get teased about what kind of research they might delve into for the sake of their books – it's a tough job, but somebody's got to do it…**snicker, giggle, knowing wink.**
The research my husband and I engaged in for this spicy romantic suspense is a little different – some might say, it's been our entire lives. We've both taught at universities (that's where we met) and we know the academic life from the inside. The choices and struggles faced by our professorial hero, Anthropologist Matt Bayfield, are more familiar than we might like to admit.
Hubs is a sociologist with a specialty in criminology. I promise he's drawn on this background immensely in creating our spunky female undercover cop, Nancy Appleby, in plotting the trajectory of the crimes and the mystery of solving them, and especially in understanding our truly creepy villain (who I won't name, of course – that would spoil everything!).
We've both immersed ourselves in understanding Celtic culture and history for years – long before we envisioned this novel. Hubs has Welsh roots, and mine are Scotch-Irish on one side, so we feel an ancestral pull to that era and its understanding of seasons and cycles. It was easy to hand that passion over to our ersatz professor. We won't say more about how it's woven into the plot, but we think readers will like it.
We had a close call researching the technology we've given our resourceful cop – hubs found himself on a website requesting security clearance for more information. Backed right out of that one! But found what we needed to know without tripping any more alarms.
The North Woods, where we've set the novel? A place we've lived and loved, and left, when the winters grew too much for us to handle. But while we lived there, we threw ourselves with a passion into the cross country skiing, snowshoeing, and crisp winter outings Nancy enjoys so much. Writing those scenes was like watching snippets from our own life on the screen.
THE UNMASKING was originally released in 2008 under a different pen name; rights reverted to us when the contract ran out, and we've decided to re-issue it as "ourselves." We've thoroughly re-edited the book and incorporated helpful feedback from our beta readers.
Our tag line is Erotic Romance for Two, Three, or More. Most of our published work has focused on the "three or more" side of the equation. We're happy to offer a book focused on the "two" element, and we think readers will find the sex is no less sizzling. And no, we're not going to share any research we might have indulged in to write those scenes.
BLURB:
Whose mask will crumble first—the enigmatic professor of Celtic Studies, the undercover cop masquerading as a co-ed, or the campus stalker, biding his time to strike again?
Is anthropology professor Matt Bayfield the Blackthorn College rapist, or a potential ally? Aloof and unapproachable, Matt has academic ambitions. He can't escape Blackthorn College soon enough, and he doesn't want any entanglements to slow down his exit.
Nancy Appleby would like nothing more than to solve the string of campus rape cases before Thanksgiving so she can go home. The last thing she wants is a relationship to complicate her life—but she'll settle for a fling, especially when the sex sizzles.
The stalker has his own carefully crafted timetable, with a special date just for Nancy. Can Matt and Nancy force him out of his hidey-hole before it's too late?
REVIEWS:
Four and a half stars at Romance Junkies: From beginning to end, THE UNMASKING is a fascinating tale…I was intrigued at how the writing team is able to intertwine a love story with such horrifying circumstances in startling clarity…If you enjoy romantic suspense novels then I can definitely recommend THE UNMASKING. ~ Chrissy D.
Five Stars at Amazon: One of the best stories ever written by Adriana Kraft…a truly great read. Could not put it down until I finished it. ~ Amy B.
Five Stars at Goodreads: The suspense is so well done you don't know who the bad guy is until it's revealed in the book. The action is fast paced and kept my interest to the very end. Could not put the book down. Donna H.
BUY LINKS:
Excerpt:
Minutes later, Matt sat on the living room couch transfixed by the fire and the woman who lay curled on the couch with her head resting in his lap. His right hand had snaked up under her wool sweater and cupped a firm round breast. Now and then his forefinger grazed a nipple and Nancy emitted an encouraging moan.
Matt settled back against the cushions. This was comfortable, almost too damn comfortable. Never had a woman made dinner for him. Usually, he'd take a date to dinner and maybe to a play or concert afterward. Then there would be the rush back to his place or her place. The sex would be too rapid fire and he'd be left wishing she'd go home or he would.
This was different. Nancy appreciated a slow sex play that he also liked, not that they hadn't made love fast and furious with more passion than he thought possible. He glanced down at her. Her eyes were closed. Yes, this was different.
He froze. This was a dangerous woman in his arms. She not only carried a gun, she filled up his senses. No woman had ever come close to doing that.
~~~~~~~~~~~~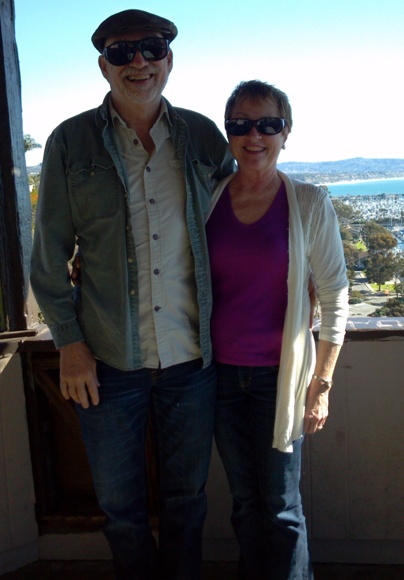 Adriana Kraft is the pen name for a husband/wife team writing Erotic Romance for Two, Three or More. The award-winning pair has published over thirty erotic romance novels and novellas to outstanding reviews. Romantic pairings include straight m/f, lesbian, bisexual, ménage and polyamory, in both contemporary and paranormal settings.
Website: http://adrianakraft.com
Blog: http://adrianakraft.com/blg
Facebook Page: http://www.facebook.com/pages/Adriana-Kraft/182846025133440
Twitter: http://twitter.com/AdrianaKraft"> http://twitter.com/AdrianaKraft
Goodreads: https://www.goodreads.com/author/show/1578571.Adriana_Kraft
~~~~~~~~~~~~
CONTEST: Leave a comment to enter for one free download from my backlist, available at http://adrianakraft.com/books. Our heroine is an undercover cop – what occupation would you most like to see featured next and why?
by R.G. Alexander
on Mar 6th, 2014
17 Comments »
A few of the authors of the New York Times and USA Today Bestselling box set promised readers that if we did it-if we got on the NYT list-we would bare all.
Okay not all, just some things we'd rather not share with people who 1) haven't already reminded us about it because they were present at the time 2) aren't sworn to oaths of secrecy 3) aren't our imaginary friends
The first one isn't remotely embarrassing imo, even though she thinks it is. As promised, our Smutketeer Eden Bradley reveals to the world-her beautiful, sexy self…with 80′s hair. :)
I will NOT show you pictures of me during that time period. Because I burned them all. And if anyone has any? I know where you live. Enough said. lol
Next we have Lauren Hawkeye, who is an amazing woman and you should buy everything with her name on it. *bats eyelashes* Did you know she was in a girl band? She was. She said she's not the lead…can you pick her out? And isn't she so wonderful for sharing? Plus…I couldn't post the mp3 so I made a video WITH KITTENS ON AN ADORABLE LOOP!


Next up is Roni…she kept telling you she'd written fanfic of New Kids On The Block. If you didn't believe her before, you will now. :) Just click on them to read the goodness that will leave you wanting more! *G*
I'm the last one. This is a practice video, early days jam session with Rachel and the Rock-its. Yes, that was a band I was in around 12–or 100 years ago. Eventually we were better than this-our drummer kicked ass and didn't always need a chair to keep her drums from tipping over and we didn't only sing television theme songs…sadly my fashion sense never really kicked in until I met Eden. It's still a little behind lol
Here I am singing, Searching My Soul, the Ally Macbeal song. I liked the words. I have a thing for lyrics you know, and I really was ready…for what love has to bring… :)

▶ Rachel and the Rockits – Searchin' My Soul from rg alexander on Vimeo.
So from all 14 authors of Riding Desire–including the 4 who just got naked in public–THANK YOU. From the bottom of our blushing hearts. You are the reason this happened. And we'll never forget it. *cues I've Had The Time of My Life*
ALL FOR SMUT AND SMUT FOR ALL!!
by robinrotham
on Mar 6th, 2014
28 Comments »
The Tall, Dark & Alpha boxed set brings readers 10 pulse-pounding romances about alpha heroes.

He makes your heart pound and melts your resistance away. He promises you a world of passion and you find it impossible to resist his dark charm. When he catches your eye across the room, you know he means business. He could be an executive, cop, shape shifter, or a bad boy looking for a little fun. Once he has you in his sights, you can't get away—and after one sizzling night in his arms, you won't want to. He's Tall, Dark & Alpha. The alpha male is the ultimate indulgence…the richest dark chocolate…and we're offering him to you in abundance.
Delve into the sensual worlds of award-winning authors: Randi Alexander, Koko Brown, Sam Cheever, Delaney Diamond, Eve Langlais, Afton Locke, Dawn Montgomery, Farrah Rochon, Paige Tyler, and Eve Vaughn. Immerse yourself in the alpha male experience.
Facebook: https://www.facebook.com/TallDarkandAlpha
Memes: http://www.aftonlocke.com/TDA.html
Goodreads: https://www.goodreads.com/book/show/20482968-tall-dark-alpha
Twitter: #TallDarkandAlpha
*Releases March 8th from Amazon and other online retailers.*
~~~~~~~~~~~~~~~~~~~~~~~~~~~~~~~~
Character Interviews, Blurbs, and Excerpts
Chase and Seduction: Hot Country Series, Book 1 by Randi Alexander
Come backstage and get your hands on country superstar Chase Tanner!
Interview with Chase Tanner (country star):
Q1: Chase Tanner, you're known as one of country music's bad boys. Do you deserve that reputation?
Answer: *grins and tips his black cowboy hat back* Well, I can't say I've been all that good, but you know how the tabloids stretch things out of proportion. I think I balance my wild reputation with the charities I support, and the hours I donate singing and playing at children's hospitals.
Q2: You're filming your first movie right now, Prairie Fire. How's that going?
Answer: I just have a small role, the bouncer, but it's been a lot different than filming music videos. The movie's screenwriter, Reno Linden… *wags his eyebrows* She's one special lady. Talent, beauty, and sex appeal all rolled into one sweet package.
Q3: It sounds like you two are getting cozy there at the movie studio.
Answer: I wish that was the case, but she's a bit skittish. I've gotta find a way to prove I'm not just the man she sees on the entertainment news.
Q4: And how do you plan to do that?
Answer: I'm gonna pour on the charm, friend. *winks* That woman is worth the effort, and I aim to get her into my life.
Blurb:
Country music superstar/actor Chase Tanner has yet to be denied anything–and he's never wanted anything or anyone more than gorgeous screenplay writer Reno Linden. So when the film they are working on is finally finished, Chase decides to turn up the volume on seducing Reno.
Reno Linden lived a quiet, rural life until she was thrust into the Hollywood scene when her book was adapted to film. Chase Tanner is larger than life, sinfully sexy and hell-bent on getting her into bed. Skittish after a failed wedding engagement, Reno risks the plunge into Chase's arms, and is surprised that her good girl self can keep up with bad boy Chase.
Though Chase returns to his cowboy roots often, and Reno cherishes the time spent with him on his ranch, the two find their careers pulling them in different directions. Will their attraction survive the glitz and stress of fame?
Excerpt:
"Woman! Don't make me come after you!"
Reno straightened, showing Chase her profile. "You could never catch me, old man."
"Old?" He leapt to his feet, and Reno jerked, dropping the flower. "I'll show you old." He stalked toward her.
She let out a shriek and bolted in the opposite direction, laughing crazily.
He took a hop then ran hard and fast. He was upon her in seconds. Grabbing her around the waist, he lifted her off her feet. "There's no getting away from me, Reno."
She slapped at his hands. "Let me go, you evil letch."
He released her only to take one wrist, bend and grasp her opposite knee, and lift her over his shoulder in a fireman's carry, her warm skin rubbing against his, kindling a fire in each nerve she touched.
She squealed and laughed. "Chase, you put me down."
Dominating her this way sent a rush of desire through him, making her weight feel like a feather as he strode back to their blanket. Reaching up, he swatted her behind. "You hush now."
Her indrawn breath was followed by a soft moan. "And if I don't hush?"
He spanked her again, harder, and she whimpered, a sound he recognized as pleasure. His woman liked a little discipline. And he'd enjoy giving it. A fresh surge of blood pulsed into his cock as he visualized how he wanted her. On her hands and knees in front of him, her ass high in the air, her slit open and slick for him.
At their blanket, he set her down, and when she turned to scamper off again, he held her wrist. "Uh uh. The only place you're going is on your knees."
Randi Alexander Links:
Website: http://randialexander.com/
Facebook profile page: https://www.facebook.com/RandiAlexanderAuthor
Facebook author page: https://www.facebook.com/RandiAlexanderBooks
Twitter: https://twitter.com/Randi_Alexander
Goodreads: http://www.goodreads.com/author/show/4885056.Randi_Alexander
Pinterest: http://www.pinterest.com/randialexander1/
YouTube: http://www.youtube.com/user/randialexanderauthor
Authorgraph: http://www.authorgraph.com/authors/Randi_Alexander
~~~~~~~~~~~~~~~~~~~~~~~~~~~~~~~~
Player's Challenge by Koko Brown
Interview with Devin Spencer (professional English Football Player)
Q1: The media has labeled you a bad boy. Is there any truth to the rumors?
Answer: The rumors are partly true in that I don't conform to society's dictates or standards of behavior (holds out tattoo sleeves), but I don't go around smashing up hotel rooms, treating women poorly or blowing off my fans. That's just being an arse.
Q2: What's better, American Football or English Football?
Answer: Come on, really?
Q3: Why after so many years have you decided to reconnect with your secondary school sweetheart Gemma Clarke?
Answer: This isn't bragging, but as an international football player, I've been in the company of countless women from all different backgrounds and experiences. I've had fun with them all and appreciate them coming into my life. But none of them have stuck with me or held a candle to how I feel when I'm with Gemma. (Pulls up t-shirt, exposing heart tattoo with dangling key, which reads GEMMA) She makes me feel ten feet tall, but she doesn't put up with my crap when I step over the line, which is often.
Q4: What if things don't work out with your reunion with Gemma?
Answer: No comment.
Blurb:
Footballer Devin Spencer is a bad boy in need of handling. Notorious for his off-field exploits, he's pushed one too many buttons even his agent has washed his hands of him. If he doesn't straighten up his act, the Champions League goalie could face his last days on the pitch.
Gemma Clarke is at the top of her game. She's a sports agent with a bright future ahead of her. The only dark spot? The recent addition of her former lover Devin Spencer to her client roster.
Their passionate love affair abruptly ended when Croydon F.C.'s development team came calling and he walked away without looking back. Now Devin's back, the chemistry between them is hotter than ever, and he wants to prove to Gemma he's a changed man. Can this bad boy footballer gain Gemma's trust and get her to overlook the no fraternizing clause in her contract?
Excerpt:
He remembered her.
"Aren't you a sight for sore eyes?"
Speaking of eyes, she centered her gaze on his chest, so as not to be drawn in by that panty-dropping gaze of his. "Nice seeing you again, Devin," she said, sticking out her hand, her tone and body language staunchly professional.
For several seconds, Gemma thought he was going to leave her hanging. But his hesitation had only been a ploy. When she looked up, his hand engulfed hers and a sizzling jolt shot up her arm, connected with all her nerve endings, especially the hundred or so centered in her groin. To ease the growing ache between her thighs, Gemma crossed her legs at the ankle.
"How you've been?" Proud her voice remained steady, Gemma mentally pumped her fist as she slipped her hand from his.
"I've been a bad boy." He even had the temerity to sport a sheepish expression as he stuffed his hands into the pockets of his trousers.
"So what's new?" Feeling a little more in her element, Gemma allowed herself to relax as she followed him down a long hallway lined with black and white action photos of him on the pitch. He was Devin after all. Before all the money, fame and women, he'd been her closest friend.
"Quite a collection you have," she said, pointing out the dozen or so photos.
He cut his eyes at her, the edges of a smile quirking his lips. Gemma's belly tumbled. Everything about him oozed with sex appeal.
"Narcissistic?"
"A tad," she teased. Without thinking, she reached out and tweaked his arm like she used to when they were kids. The warmth of his skin beneath her fingertips made Gemma's body tingle. But it didn't compare to the way his gaze locked with hers as he fingered his arm. It was the same look he gave her when he was no longer interested in his studies and more interested in finding out the color of her knickers.
Koko Brown's links:
Website: http://kokobrown.net/
Blog: http://kokobrown.net/category/blog
Facebook: https://www.facebook.com/authorkokobrown
Goodreads: https://www.goodreads.com/author/show/2865184.Koko_Brown
~~~~~~~~~~~~~~~~~~~~~~~~~~~~~~~~
Tall, Dark & Apocalyptic by Sam Cheever
A grand passion in an apocalyptic world. A love beyond reason and without boundaries.
Interview with Audie Kord (bounty hunter)
Q1: Can you describe yourself for the readers in four words?
Answer: Describe myself? Why? Oh…never mind. I guess I'd have to say I'm driven, single-minded, determined and fair.
Q2: One of those things is not like the others. (smiles and then clears throat as he glares at her) Okay, so why should a reader enter your world? Entice me.
Answer: (snorts) Entice you? Into my world? You did get the apocalyptic part, right? It's ugly in my world. At least a third of the 20 worlds have been decimated. People are living underground because there are no governing bodies and lawlessness prevails. Zombies roam the earth, eating people.
Q3: Ugh! I'm not enticed. Okay, let's try this question then. What's really special about your world? Delight me.
Answer: (Audie chuckles, stares at reporter for a long moment, then blinks) Oh, you're serious? Have you suffered a head injury recently? Maybe you've sucked too much sulfur? See above.
Q4: Okay, let's try something simple. Boxers, briefs, or commando?
Answer: Good lord, woman. Why is that important? Commando of course. I wear battle leather and it gets hot. My boys need to breathe. What a stupid question. (shakes head)
Blurb:
He's a warrior, a bounty hunter in a world turned upside down. She's a target, a creature of dark magic. His job is simple. Kill the target. Her goal is more complex. She must stay alive until she finds and destroys the source of death magic staining the twenty worlds. But the passion burning within them may be their undoing. It's going to take an apocalyptic will to overcome the distraction their bodies are creating…and not lose themselves in the process.
Excerpt:
"You don't need to run from this, Yeira," he told her. "In fact, you can't run. You're scared and confused because you want me, beyond thought, past caring."
Yeira shook her head. "You can't know…"
His lips found her shoulder—pressed a lingering kiss there—and she shivered under its power. "I know, because I feel exactly the same. I've been trying to deny it since first laying eyes on you. But it's impossible. You and I aren't just a man and a woman. Our bodies are tuned to each other in an almost magical way. When we're apart I can barely think of anything else. I haven't looked at another woman since I met you. My mind has tried to explain to me that you and I are at cross purposes…that we aren't suited in any way…but my body doesn't care about reason. It only cares that your skin is impossibly soft." He ran a hot, lightly calloused hand up her belly, skimming the swollen curve of her breast. "—that your scent turns my brain to mush and stiffens my cock. I know now that I won't be able to shove you out of my mind until I've tasted you…"
Hope flared in her breast. "Do you think that will work? That we can push these feelings aside if we just give in and have sex?"
His lips trailed up the side of her throat and he nibbled her jawline. One hand encompassed her breast and the other slipped downward, to skim beneath the waistband of her battle leather. "What you and I will share won't be just sex, Yeira. It will be an exorcism…a purging."
He easily stretched the leather away from her lower belly, sliding his hand past it to cup her sex. Yeira gasped, fire coiling in her belly. She knew he was right. She'd known it for some time.
In that moment it seemed impossible to resist what he was offering. Worse, it seemed utterly stupid.
She turned in his arms and arched into him, her hands lifting to twine through his midnight hair. "Then so be it. Let this be the start of our healing…and the end of our obsession."
Sam Cheever Links:
Website: http://www.SamCheever.com
Facebook author page: https://www.facebook.com/pages/Sam-Cheever-Author/102117321982
Twitter: http://www.twitter.com/samcheever
Blog: http://www.SamCheever.com/blog
~~~~~~~~~~~~~~~~~~~~~~~~~~~~~~~~
Fight for Love by Delaney Diamond
A former pro wrestler fights to hold onto the woman he lost, but still loves, and the son he never knew existed.
Interview with Rafael Lopez (former pro wrestler)
Q1: What did you think the first time you saw Rebekah after being apart from her so many years?
Answer: I thought about how inadequate my memory had been. She was more beautiful than I remembered, and I thought about how crazy it was that I'd stayed away for so long.
Q2: Why did you stay away for so long?
Answer: When Rebekah left me, I felt as if I'd lost a vital organ, but I stayed away because that's what she and her family wanted. And what could I offer her? I knew she'd been unhappy while I was on the road, and the tabloid scandal was the last straw for her.
Q3: Now that you're back, what are your plans?
Answer: I've retired from wrestling, I'm no longer on the road, and I can provide her with the type of life she deserves. I have only one goal—and that's to win her back.
Blurb:
Science teacher Rebekah Jamison lives a quiet life in the suburbs of Atlanta. Devastated by a tabloid scandal nine years ago, she ended her marriage to the man her parents never approved of.
Rafael Lopez, former professional wrestler and "Sexiest Athlete Alive," regrets the lapse in judgment that caused him to lose his wife. He shows up unannounced one day with some startling news, but he gets a surprise of his own. He finds out he's a father. To get to know his son, he whisks him and Rebekah off to his home in the Hollywood Hills for the summer.
Excerpt:
She assumed the position, her fingers splayed out on top of the cool, wooden tabletop. She stood frozen, except for the trembling of her inner thighs, awaiting his next move.
His long fingers swept her thick hair aside to hang over her shoulder so he could drop tender kisses along her neck and the sensitive skin behind her ear. She closed her eyes to savor each connection of his lips to her flesh.
Before she could process his actions, his hands climbed up the back of her bare thighs. Heady desire engulfed her, weakening her resistance.
"You won't be needing this," he said.
Not a second later, she heard the sound of tearing material and felt his hands on her naked hips. He'd torn off her panties! The fragile silk proved no match for the strength of his powerful hands.
"Rafe," she breathed.
Her senses reeled with an indecent swell of anticipation as her mind registered he was on his knees behind her. The folds of her skirt were bunched in his meaty fist while his mouth—his wicked, thorough mouth—pressed reverential kisses along the base of her spine. Lips parted, back arched, she squeezed her eyes tight as he showered kisses down the curve of her backside.
With one hand, he nudged her legs wider. A low whimper escaped her throat. Her body pulsed, wanting what was on offer, consumed with need. And then…contact.
Delaney Diamond Links:
Website: http://delaneydiamond.com
Facebook: https://www.facebook.com/DelaneyDiamond
Twitter: https://twitter.com/DelaneyDiamond
Goodreads: https://www.goodreads.com/Delaney_Diamond
~~~~~~~~~~~~~~~~~~~~~~~~~~~~~~~~
Crazy by Eve Langlais
Ella hears voices and they don't like anyone.
Interview with Zane (vampire)
Q1: Knowing how antisocial you are, why did you agree to this interview?
Answer: I didn't plan to but I was hungry, and since Ella was otherwise occupied, you seemed like you'd make a tasty treat.
Q2: Um, how does Ella feel about you snacking on other people?
Answer: She hates it, which is why I'd recommend you keep this short and run as soon as we're done. When she gets riled, bad things happen.
Q3: How did you meet Ella?
Answer: I met her at an insane asylum and fell in love with crazy.
Q3b. Don't you mean crazy in love?
Answer: No, I mean I fell in love with her crazy ass. You do know she hears voices, right?
Q4: What makes you the perfect alpha male?
Answer: The fact that I'm about to sink my fangs into you, feel absolutely no remorse for doing it, and then, when my crazy girlfriend gets mad, I'm going to toss her over my shoulder and show her who's the vampire. I'll probably get injured in the process, but the end result? So worth it.
Blurb:
Ella's always heard voices and because of them, she ends up institutionalized at a young age. Everyone calls her crazy and she believes she is too until the night she meets a vampire and for the first time in her life, the voices shut up.
Zane just wants to enjoy his usual blood buffet, instead he runs into a wisp of a woman who makes him feel emotions he thought long dead. Rescuing her from the insane asylum, he brings her home, determined to seduce and feed from her, a plan that is foiled by ghostly voices determined to keep Ella untouched. But not even poltergeists can stand in the way of a vampire in love.
Excerpt:
It didn't even occur to Ella to push him away. The soothing relief his touch brought from the voices not to mention the heat that infused her body made her lean into him. "Actually, so long as I'm fairly near to you they shut up."
"Then we'll have to ensure you stay close to my side," he murmured in a low voice. "Very close." His hands dropped to her bottom, and drew her closer, pressing her against his lower body.
Her eyes widened as she felt the hardness of him, unmistakable and flattering. He desires me! Up until now she'd wondered. Hoped.
Tilting her head back, she glanced at him to see if she could read his mood and make sure she wasn't mistaken. Hooded eyes peered down at her. Zane raised his hand and with one finger, stroked her lips, tracing them, teasing them. Light headed and mesmerized by his touch, Ella's lips parted. As if this were a signal he'd waited for, his head dipped down. Closing her eyes, she waited for her first kiss.
And oh, the fire it ignited.
Gently he brushed her mouth, sliding his lips across hers, a cautious exploration. Ella, inexperienced but curious, and desiring for the first time in her life, tentatively pressed back. His arms tightened around her and he deepened the kiss, his lips tugging and tasting hers. The flick of his tongue made her gasp and he used that to his advantage, slipping his tongue into her mouth to twine with hers. Ella's knees buckled, but he held her up, crushing her against his hard body, igniting a fire between her legs.
Ella vaguely understood what was happening. She'd seen patients coupling with each other in the wards. Heard and seen the orderlies indulge, she'd just never participated herself. She'd never wanted to. Never, until Zane.
A sharp canine nicked her lower lip and the metallic tang of her blood hit her tongue, a flavor that seemed to enflame Zane because he moved them backwards in the direction of the bed even as his hands tugged at her flimsy gown, sliding it up over her hips to bare her buttocks.
Eve Langlais Links:
Website: http://www.evelanglais.com
Facebook: https://www.facebook.com/eve.langlais.98
Twitter: https://twitter.com/EveLanglais
Blog: http://www.evelanglais.com/wordpress
~~~~~~~~~~~~~~~~~~~~~~~~~~~~~~~~
Rock My Boat by Afton Locke
Once addicted to the sea, you can't escape its pleasures.
Interview with Simon Mann (shape shifter)
Q1: If you could control something or someone, what would it be?
Answer: I'm not out to control anything or anybody. I'm just a man (or fish) trying to live a good life. Well, it's not exactly a real life. I'm sort of undead at the moment. If you want to interview a control freak, talk to Poseidon. He controls everything in the sea, including me, which really ticks me off. I only want to control my own destiny.
Q2: Which alpha trait is more important to you and why?
Answer: Honor. If an alpha man is not honorable he has no right to be an alpha. If everyone with power just pursued his or her own desires, the world would be in chaos. Being alpha means you sometimes have to put yourself last for the good of others.
Q3: What does Rhonda think about your alpha traits?
Answer: She'd say she hates it because she runs her own company and needs to be in charge all the time. If you were a fly on the wall during the private safety briefing I gave her, though, you'd realize she secretly loves being given orders by a man. I didn't even have to touch her to know how wet I made her.
Blurb:
Workaholic CEO Rhonda Simms embarks on a Caribbean cruise to create an ad campaign for a big maritime freight client. She finds it impossible to concentrate, however, when Simon Mann, a blue marlin shifter, sets his sights on her. From a private, hands-on safety briefing to a wild ride in the ocean, he rocks her ordered world.
Simon drowned years ago in a shipwreck caused by Rhonda's client, and he'll do anything to be a normal man again. As his mate, Rhonda is the only person who can help him.
Tired of being so responsible, Rhonda is ready to let loose with a shipboard fling. Mating with Simon could cost a lot more than her virginity, however. Will she stick to her present course or will she let this sexy alpha rock her boat?
Excerpt:
Rhonda gasped when a strong, male hand closed around her bare upper arm.
"Come with me, ma'am." His voice, stern and hard as concrete, scraped across her already frazzled mood.
Where had he come from? Even though she was taller than average herself, she had to look up. The uniformed white man had an unyielding, ruddy face covered with black stubble. Weren't the ship's employees supposed to be well groomed?
She straightened her spine and spoke in her I'm-queen-of-the-boardroom voice. "Did I do something wrong, officer?"
Arched, black brows scowled over eyes just as dark. "I'll ask the questions here."
If she had fur, it would have bristled. Wearing a uniform was not a license to treat others like dirt. Maybe she needed to heed her own advice about playing nice.
Rhonda clamped her mouth shut. What else could she do with a brute literally dragging her down the hallway by the arm? He led her to a metal door, which he unlocked. Once they were inside with the door closed, she blinked at the bright fluorescent lights and bare white walls. No one else was around. This couldn't be good.
She perched her hands on her hips. "I demand an explanation for being dragged around like a sack of potatoes."
"As I said, I'll ask the questions."
He circled her as if he were a predator scoping out a tasty meal. His cap threw a shadow over his face, and each click of his hard shoes on the floor raised another patch of goose bumps on her flesh. Could the cruise from hell get any worse?
She couldn't help noticing how his muscled chest filled out his short-sleeved white shirt and tapered to a sturdy waist. Her gaze followed that to a muscular butt and long, powerful legs.
"Get up against the wall."
"I already went through the security screening." Nevertheless, she did as he asked. "Frankly, your customer service leaves a lot to be desired."
"Let me see your ship card."
She yanked it out of her shorts pocket and handed it to him. He returned it and planted a broad hand in the middle of her back, as if to keep her pinned against the wall. To her dismay, the warmth from his touch circulated through her body, settling low in her belly.
"Ms. Simms, you've been selected for a private safety briefing."
Afton Locke Links:
Web site: http://www.aftonlocke.com
Facebook profile page: https://www.facebook.com/afton.locke
Facebook author page: https://www.facebook.com/AftonLockeAuthor
Twitter: http://twitter.com/aftonlocke
Newsletter: http://groups.yahoo.com/group/thelovechronicle/
Goodreads: http://www.goodreads.com/Afton_Locke
YouTube: http://www.youtube.com/user/aftonlocke
~~~~~~~~~~~~~~~~~~~~~~~~~~~~~~~~
Silver Tongued Devils by Dawn Montgomery
She was always one step from hell until she found redemption in their arms.
Interview with Brom Raine (hybrid, executive officer of the Mercenary ship, Crimson Star)
Q1: *eyes Brom's fangs* What makes a half breed so dangerous?
Answer: Our human DNA was spliced with felines generations ago. It's how we've survived harsh conditions of new planet colonies. *smirks* Sometimes our primal urges get the best of us. In and out of bed.
Q2: What is it that drew you to Raesa?
Answer: She didn't back down. Most people take one look at the stripes on my skin and see an animal. They either avoid or insult us. Raesa did neither one of those things. It takes a strong woman to take me as I am. I respected that about her.
Q3: You're in a ménage relationship with your Captain and Raesa. What's that like?
Answer: Fun. *slow grin* There's no way to describe how sexy it is to watch a woman like Raesa come undone. She becomes wild when we touch her. Na'varr and I have a unique relationship. We would die for one another, but it was never comfortable. We need Raesa and no one will cherish her more than we can.
Q4: You take orders from Captain Anderson Na'varr. Do you still consider yourself an alpha male?
Answer: In this universe, a tiger who wanders alone will be picked off by poachers. Na'varr maintains the territory I hunt in. I protect his hide from those who would do him harm. No one will take Raesa from us. I'll let you decide if that makes me an alpha male or not. Now, if you'll excuse me, I have a woman to go tame.
Blurb:
Ship thief and notorious escape artist, Raesa Daw was the best in the business until a routine DNA test proves that she's the last Earthen pureblood in existence. Desperate to escape sexual slavery and breeding for a royal house, she flees the station on the Crimson Star, landing in the arms of a deadly half-breed, Brom Raine.
One kiss burns away her fear, but opens a world more dangerous than she'd ever known.
Captain Anderson Na'varr of the Mercenary frigate Crimson Star shows no mercy to those who stow away on his vessel. He will take the thief and show her exactly how erotically ruthless he and his Executive Officer, Brom, can be.
Seduced by the dark lust and hidden strength of both men, she vows to do everything in her power to corrupt her DNA before the slavers find her.
Na'varr realizes Raesa holds the key to survival, and losing her to the Republic would destroy the fragile peace he and Brom had found in her arms. Her courage would lead them out of the depths of hell but only their love could keep her alive.
Excerpt:
"So you're the reason our ship has been land-locked." His smile widened and she noticed the distinct gleam of fangs.
Raesa jerked her body to a position which made breathing much easier. The hybrid was built like a cyborg war machine, all bulk and heavy as hell.
"It's an illegal search. You can stun them, drop them outside the ship, and then get the hell out of here."
"Run from Imperials? Who do you think we are?"
She realized the sound of fighting grew louder. They were running out of time. "You're Brom Raine. Second in command to Anderson Na'varr of the Crimson Star."
"You forgot hybrid." The statement ended with a feline growl and he nuzzled her throat. "I'm part animal." His teeth nipped lightly at her skin.
Raesa's pulse leapt, and not from fear. "What are you doing?"
"Deciding if I'm going to keep you."
Other parts of her body were definitely up to that challenge. "I'm housebroken." She didn't stop the smirk from twitching her lips.
"Can you cook as well?" His tongue swiped at her pulse point. It was rough and delicious against her too-hot skin.
"No, but I can hack my way off this planet and into free space. Word has it you're in need of a reputable information specialist."
Brom pushed himself up on his forearms and stared down at Raesa. The golden gleam of his eyes narrowed to slits while he considered her offer.
"No one can be that good."
She grinned. "I'm the best, baby. That's why I'm here."
A loud rumble erupted from his chest. Was he purring or growling? Her eyes widened and the reverberation filtered through his clothes to the scrap of cloth she wore. His teeth pressed against her throat for a split second and she stopped breathing.
Was he going to bite her?
Before he pulled away, he licked her. "Did you plan on getting caught by me, kitten?"
Raesa's cheeks burned hot. "Not exactly."
"Ending up under me wasn't on your agenda?" He gently nudged her thighs further apart.
Raesa put her palm against his chest. She needed to get away. "You were ridiculously fast."
"So were you. It's been a long time since I was taken by surprise. Maybe I should keep you, after all." He took her hand and pressed it down above her head.
This wasn't what she'd planned at all.
Dawn Montgomery Links:
Website: http://www.dawnmontgomery.com
Blog: http://www.dawnmontgomerywrites.wordpress.com
Facebook: http://www.facebook.com/AuthorDawnMontgomery
Twitter: http://www.twitter.com/Dawn_Montgomery
Pinterest: http://www.pinterest.com/DawnMAuthor
~~~~~~~~~~~~~~~~~~~~~~~~~~~~~~~~
In Her Wildest Dreams by Farrah Rochon
When the woman of his dreams asks him to create a Valentine's Day fantasy, Gavin plans to show her just how sweet their reality could be.
Interview with Gavin Foster (CEO chocolatier)
Q1: What made you give up a lucrative career in software design to open your own chocolate shop?
Answer: As much as I loved my previous career, I'd already made my mark there. I had nothing else to prove. I'm an admitted chocoholic and working in fine chocolates has always been a dream of mine. I wanted to prove that I could be the best chocolatier in the city of New Orleans, and that's what I've done.
Q2: What is your favorite pastime?
Answer: My second favorite pastime is making chocolates. You can guess the first.
Q3: Do you consider yourself an alpha male?
Answer: I've never thought of myself in terms of what kind of male I am. I'll leave that to the people who worry about that kind of thing. I consider it my duty to treat the woman in my life with love, respect, and, most of all, passion. If that makes me an alpha male, then I'm an alpha male. Next question?
Blurb:
As owner of Your Wildest Dreams, Erica Cole specializes in creating over-the-top fantasy date nights for her clients, although she never anticipated the headaches that would come with owning her own business. When a consulting firm shows interest in franchising Your Wildest Dreams, Erica is over the moon at the thought of her longtime dream becoming a household name…and the financial payoff that is sure to come. Now, she must create the ultimate Valentine's Day experience, and Erica knows just who to call to help her plan it.
Since Gavin Foster opened Decadente Artisan Chocolates, life has never been sweeter. The former tech company CEO has found his true calling, creating high-end chocolates for the discerning palettes of New Orleanians…and the best friend whom he wishes were more, Erica Cole. When Erica requests his help in creating a Valentine's Day fantasy, Gavin sees it as the perfect opportunity to show her just how sweet their reality could be.
Excerpt:
"Sometimes, I feel like a fraud, creating these elaborate romantic escapades for people, when I have zero romance in my own life."
"That's by choice," Gavin charged. With a penetrating look, he added, "You could have someone in your life if you really wanted to."
"Yeah, right." She snorted. "My latest attempt at romance cost me fifty bucks—because, yes, we split the check and I covered the entire tip—and a Tuesday night that could have been better spent watching television."
"You're not serious when it comes to these guys, Erica. When you're really ready to find someone, the perfect guy will be there. Right in front of you."
"Yeah, if only that perfect man existed."
Gavin huffed out a frustrated breath. "You can't be this blind, Erica."
"What?"
"Forget it." He went back to vigorously stirring the contents of the bowl.
Erica gestured toward the chocolates. "So, you feel bad enough for me yet?"
"I don't know," Gavin said. "You brought this on yourself. I warned you about going out with that guy."
"But the date's not even the half of it."
"There's more?"
She nodded. "Termites."
Gavin's brow rose in blatant inquiry.
"Château Dumais has a termite infestation," Erica explained. "They've had to completely shut down, and they don't plan to reopen for another four weeks. Your Wildest Dreams has fourteen Valentine's Day experiences booked there."
"Now that sounds like a problem," Gavin said.
"Breaking the heel on my favorite shoe is a problem. This is a disaster."
Erica looked longingly at the rows of truffles lined up like little round soldiers on the slab of glossy marble. Some had yet to be dipped in the bowl of velvety chocolate. Others sat drying, the swirls on top an indication of what flavors resided inside. "I could sure use a pick-me-up," she said.
Gavin's eyes crinkled at the corners, along with his mouth, as he smirked at her. He walked over to the other end of his work area where the darker chocolates were. He picked out two of them, then walked over to her.
"Open your mouth."
Farrah Rochon Links:
Website: http://www.farrahrochon.com
Facebook: https://www.facebook.com/farrahrochonauthor
Twitter: http://www.twitter.com/FarrahRochon
~~~~~~~~~~~~~~~~~~~~~~~~~~~~~~~~
Two Cops, a Girl and a Pair of Handcuffs by Paige Tyler
Working the late shift just got a whole lot more fun!
Interview with Cilla Garner (barista)
Q1: How did you meet police officers Hayes Prescott and Reed Lockwood?
Answer: They regularly come into the coffee shop where I work as a barista. I work the late shift, so it's usually pretty empty at that time of night. Which is a good thing since I can't keep my mind on anything else when those two hunks are around!
Q2: Have you ever had a threesome before having one with Hayes and Reed?
Answer: Good heavens, no! I never even thought of having one until Hayes and Reed suggested it. Well, that's not true—I have thought about it before, but only in my fantasies.
Q3: I understand you have a thing for cops. Tell me about that.
Answer: It's that obvious, huh? There's just something inherently alpha about cops, you know? I mean, they come with their own handcuffs. Enough said!
Blurb:
Cilla Garner has it bad for Hayes Prescott and Reed Lockwood, the two hot cops who come into the coffee shop where she works the late shift. When her coworker goes home early and leaves her alone with Denver's finest, she can't help but flirt. Of course, if they both end up asking her out, she has no idea how she'll choose. The idea of having a threesome doesn't even enter her mind until they hint at it, and then it's all she can think about.
She has the perfect opportunity to take them up on it when they offer to drive her home after work. What girl wouldn't be thrilled at the idea of sleeping with two guys who come with their own handcuffs?
Excerpt:
Hayes gave her a devastating smile. "I bet a math-minded girl like you probably even has a favorite number, don't you?"
The funny thing was, she did. But she didn't think they really wanted to hear why she thought 3.14 was so cool.
"Actually," she looked up at his from under her lashes, "I've always been partial to the number three."
"Three, huh?" Hayes's smile broadened. "And what's so special about the number three?"
Reed had come over to stand behind her. Not close enough that he was touching her, but still sandwiching her between him and his equally armed-and-sexy partner. She took a deep breath. Now or never.
"Well," she said softly. "There's just so much more you can do with three than you can do with two, you know?"
Hayes leaned in close. Behind her, she felt Reed's big hand trace across her back.
"Yeah, Cilla." Hayes's voice dropped to a husky whisper. "I think we do."
His lips were just a few inches away from hers when an insistent beeping came from the kitchen.
He jerked his head up, looking in the direction of the sound. "What the…?"
Cilla couldn't help laughing at the expression on his face. "It's my coffee maker. It beeps when it's ready." She caught her bottom lip between her teeth. "I can go get it, if you want."
Reed's arms slipped around her waist, pulling her back against his hard chest. "I think the coffee can wait, don't you?"
His voice was rough in her ear, his breath warm. She moaned as she felt his erection against her ass. At least she thought it was his cock. She supposed it might have been another kind of weapon. She wiggled her ass slowly back and forth to check. Oh, yeah. That was all cock back there. A seriously impressive one at that.
"I'm okay with letting the coffee wait," she murmured.
Paige Tyler Links:
Website: http://www.paigetylertheauthor.com
Blog: http://paigetylertheauthor.blogspot.com/
Facebook author page: http://www.facebook.com/PaigeTylerAuthor
Twitter: http://twitter.com/PaigeTyler
Pinterest: http://www.pinterest.com/paigetylerauth/
~~~~~~~~~~~~~~~~~~~~~~~~~~~~~~~~
Sex With an Ex by Eve Vaughn
When two divorcees reunite in the bedroom, the sex is hotter than ever, but can their hearts survive the second time around?
Interview with Ethan Boudreaux (lawyer)
Q1: Hello, Ethan. Why don't you tell us a little about yourself, favorite color, likes, dislikes, that sort of thing.
Answer: I'm thirty-seven years old, a partner in of the most prestigious law firms in Baltimore.
Q2: Ethan, you have been labeled quite the ladies' man before you met your ex-wife. What made you decide to pursue a sexual relationship with her after so many years of separation?
Answer: Answer: Just because people break up, it doesn't mean the feelings or the chemistry disappears and there's no other woman who makes me feel like Riley. *grins*
Q3: Do you consider yourself an Alpha Male?
Answer: I don't really think of myself in those terms. I'm just a man who knows what he wants and I don't let anything or anyone get in my way to achieve my goals.
Q4: Describe your ideal woman.
Answer: Riley Mason
Blurb:
After a devastating break-up, Riley Mason believed she had moved on with her life. That is until she crosses paths with the one man who still makes her pulse race and knees buckle, her ex-husband Ethan Boudreaux. Though she tries to fight it, the attraction is stronger than ever.
Ethan Boudreaux's greatest regret is walking away from the woman he loved. But when he's presented with a second chance with Riley, there's no way he'll let the opportunity slip through his fingers. He soon devises a plan to get her back into his life and in his bed.
When these two divorcees reunite in the bedroom, the sex is hotter than ever. But can their hearts survive the second time around?
Excerpt:
Riley drained the remaining contents of her glass and decided she'd done her duty. She doubted she could last another minute at this party without getting too melancholy. As she weaved through the partygoers in pursuit of her coat, the arrival of two new guests at the front door caught her attention. Riley nearly stumbled when she saw who it was.
Her heart squeezed in her chest, her throat closed up and she couldn't breathe, couldn't move, hear or see anything except him. Ethan Boudreaux. She hadn't seen him in years, but he was every bit as devastating as she remembered. He might not have been the tallest man at the party, standing six-feet-one, but his presence was larger than life. His tailored suit skimmed his broad shouldered, loose-limbed frame, so perfectly, Riley bit back a sigh. From memory, she knew beneath the expensive threads was a toned, rock-hard body of corded muscles. In another lifetime he would have been a warrior on the on a battlefield rather than the successful trial lawyer he was.
Ethan couldn't be called handsome in the conventional sense. His bone structure was a bit too angular, his nose a little too long and his lips were more generous than necessary. But combined with a pair of hazel bedroom eyes, he had the type of face that garnered second, third and fourth glances. The way he used to look at her with that I'm-going-to-screw-you smile had always brought Riley close to creaming her panties.
Eve Vaughn Links:
Website: http://www.evevaughn.com
Facebook profile page: https://www.facebook.com/eve.vaughn.1
Facebook author page: https://www.facebook.com/pages/Eve-Vaughn/156372768726
Twitter: https://twitter.com/Eve_Vaughn
Yahoo Group: https://groups.yahoo.com/neo/groups/evevaughnsbooks/info
Goodreads: https://www.goodreads.com/author/show/3280629.Eve_Vaughn
~~~~~~~~~~~~~~~~~~~~~~~~~~~~~~~~
Contest
This post is part of the What IS Alpha? Blog Tour.
The grand prize for the tour is a $25 Amazon gift card!
To be eligible, leave a COMMENT on this post. The comment MUST relate to one of the alpha heroes interviewed.
The winner will be announced at http://www.aftonlocke.com/tdatour.html on March 20th.
by robinrotham
on Mar 5th, 2014
19 Comments »
OMG, I'm wildly excited to announce that
RG Alexander
's
Behind the Veil
is out today! This is Robin posting, by the way–RG is having some major technical difficulties that will probably require her to switch back to the sort of laptop *I* use (naming no brand names) sometime in the near future.
Behind the Veil is the third in her awesome Temptation Unveiled series at Ellora's Cave. RG has crafted another wonderful heroine in tough cop Sheridan Kelly, and Sheridan's Fae hero, Finn, is fierce, protective, sexy and more than a little toppy, and yet sweetly sensitive. He's also an exhibitionist and deliciously willing to be tied up and interrogated by the woman he loves. Mmm, interrogation… And OMG, I can't wait for the fourth and final book in the series, which is due out late this year or early next year! I don't want to spoil it for you, but there may be dragons involved. And possibly menage with Nyc and Raj. Hey, that rhymes!
But I digress. If you need to know more (and you KNOW you do!) hie yourself to either Amazon or EC and check out the excerpt!
~~~~~~~~~~~~
CONTEST!
To celebrate the release of Behind the Veil, I'm going to give away a $25 gift card to the etailer of the winner's choice, as well as a download of any two of RG's backlist books (if you haven't read the first two Temptation Unveiled books, this might be your big chance to do read them free)! Shhh, don't tell RG I'm doing this–it'll be our little secret, okay? Just pimp her release on at least one of your favorite venues and leave a sneaky comment here!
Book 3 of the Temptation Unveiled series.
Sheridan Kelly's world is turned upside down by one magical book and the sexy supernaturals who come with it. Now the latest piece of the prophecy seems to point to her saving the day, but she doubts her supposed powers—and the new man in her life.
As a warrior, Finn learned the art of patience, a skill that has served him well for millennia—until Sheridan's impenetrable mind and fierce beauty capture his passion. But Sheridan seems uninterested in the growing lust between them. When Finn discovers it isn't lack of desire, but the dark secret she harbors that stands between them, nothing can keep him away.
Surrounded by enemies and endless temptations, Sheridan will have to fight to conquer her fears and embrace her wildest needs with Finn. As the prophecy begins to unravel around her, she'll be faced with the hardest challenge of all…accepting her destiny.
Book 1 in the Temptation Unveiled series.
When Meru Tanner receives a mysterious birthday present, The Book of Veils, her world is turned upside down. Now she's "seeing" things that aren't supposed to be real, gabbing with gods and having erotic premonitions about one sexy wolf-man she'd do anything to tame.
She tempted the feral beast inside him to come out and play. Damon Arkadios has kept the animal part of his nature leashed for thousands of years. He is a guardian, the leader of the Fianna warriors — but from the moment he caught her scent, he knew she was more than just another assignment. Protecting the sexy little seer will challenge his own beliefs — and his control.
Their lust quickly spins out of control, even as danger lurks behind every corner. Can she accept the legacy handed down to her from the distant past and convince her Lycan to be a part of her future? Or will the ancient evil that threatens to destroy their world keep them from making a new beginning together?
Book 2 in the Temptation Unveiled series.
Twins Hawk and Val are Fianna warriors under the vengeful curse of a scorned goddess. Following the prophecy in the Book of Veils, they search for the one who can help them retrieve the Claíomh Solais before their enemies get the chance. Their quest leads them to Linnea. One touch and there can be no doubt that they have found their match. But will she accept them once she knows the truth?
Linnea is no one special. So why is she on the run from evil faeries and her egotistical ex? Why is she suddenly spending time in the company of dragons, druids and one kinky Viking with a split personality? All she knows is she has to keep her family safe, and her heart safe from another betrayal.
~~~~~~~~~~~~
R.G. Alexander (aka Rachel Grace) is a USA TODAY Bestselling author who has written over 30 erotic paranormal, contemporary, sci-fi/fantasy books for multiple epublishers and Berkley Heat. She is a founding member of The Smutketeers, an author formed group blog dedicated to promoting fantastic writers, readers and a positive view of female sexuality.
She has lived all over the United States, studied archaeology and mythology, been a nurse, a vocalist, and is now a writer who dreams of vampires, witches and airship battles. RG feels lucky every day that she gets to share her stories with her readers, and she loves talking to them on twitter and FB. She is happily married to a man known affectionately as The Cookie-her best friend, research assistant, and the love of her life. Together they battle to tame the wild Rouxgaroux that has taken over their home.
Find RG!
by R.G. Alexander
on Mar 4th, 2014
55 Comments »
Get your motor running…Head out on the highway!
I want a C-O-O-L R-I-D-E-R
I don't want to die, I just wanna ride on my motorcy—cle
We're back, and you? You are AWE! SOME! Because of our successful Biker Pimp Dash, Riding Desire hit the USA Today Bestseller list!!!!! WOOOHOO!
Thank you thank you-you glorious Smutkedettes! From the bottom of our hearts. Eden Bradley and I, as well as the rest of the antho wanna kiss you all over, and over again. (I started singing again didn't I?)
But we just got some news that made us crave another contest. It's like an addiction on this blog. Stop…not another…but it feels so right, how can it be wrong. *G* (yes, I may have had too much coffee)
We are no longer dashing people, we are RACING. This antho is only going to be .99 cents for a few more days. We have from now until Saturday to give everyone one last chance to get it!
Are you ready to race? You know we have a prize. Two prizes in fact. First up-A bag of swag! A book from each Smutketeer, mousepads, buttons, tattoos, pens, magnets etc-along with a $50 Gift Card to Bed Bath and Beyond.
The second prize is a $50 gift card to Amazon!!
What do you have to do? Just tell people-
Last chance to pick up USA Today Bestselling Riding Desire on sale! 14 novellas, 14 authors, only 99 cents through Saturday!! http://www.amazon.com/Riding-Desire-limited-contemporary-romance-ebook/dp/B00IIRPMC8
Shout it from the hilltops, put it on your twitter with hashtag #ridingdesire
Post it one more time on FB…and then post a link here.
Extra entries for anyone who liked the book and has (or does) review the book on Amazon by Friday!!
Let me know here and you'll be entered to win one of these two amazing prizes!!
Winners will be chosen on Saturday…
And don't forget to come back to Smutketeers on Thursday-when RG will be talking about her double release week excitement. :)
by robinrotham
on Mar 1st, 2014
28 Comments »
Bad Boy Biker or Red Hot Alien Giveaway!
A biker and an alien walk into a bar, equally smokin', equally alpha…which one do you take home for the night? On one hand, you've got ink, leather, and well-worn denim. There's a guaranteed wild ride ahead of you. On the other hand, you have the unknown—unanticipated, perhaps unfamiliar, desires. An alien might ride you right out of your comfort zone…or into it.
I know, right?!
It's a dilemma. Fortunately, you can have both, although it's fun to ponder the question, isn't it? I'm getting a little tingly!
Contest!
The Smutketeers are rocking the hot alphas this week, and I'm giving away 10 e-copies (Amazon or B&N) of Riding Desire: Alpha Bad Boy Biker Box set, featuring stories by Eden Bradley and R.G. Alexander, and one e-copy of Robin L. Rotham's red hot alien erotic romance AMOROUS OVERNIGHT (Amazon or B&N)! If you already have them both, don't fret. I hope you'll leave a comment, and if you win, you can give it to a friend and introduce them to the magic of bikers or aliens, Hobbit-style! (I'll have to check with the friend before I gift the copy, just in case anyone has a puckish sense of humor *wink*)
***And because we love Miranda's little dilemma (not to mention her hawt books) SO MUCH, the Smutketeers are going to toss in a $20 Amazon gift card to sweeten the pot!***
~~~~~~~~~~~~
As for where I stand on who I'm taking to bed, I think it's safe to say it varies on a night-by-night basis. *Tonight* I want the alien, because I'm feeling a little mouthy, and I think the biker and I would fight. Tomorrow, I might be willing to hop on the back of a bike and let his inked Dominance call the shots, but tonight, it's going to take a being from another planet who does not share my frame of reference to keep me in line.
What about you? Who are you in the mood for tonight? And what pops into your head to help you make the decision? Leave a comment for me, and I'll enter you in the contest. I can't wait to hear your criteria! Let's talk bikers and aliens all weekend! Do you like them green and glowing? (There are condoms for that!) Growly? Smooth? On the rough road or in the vibrating space ship? I am dying to know because I'm pervy that way. Help a girl out? :)
And if you're wondering why I'm not giving my own books away, the reason is TOP STUDENT, my latest release, is FREE! I hope you'll go get it right now because it's free, free, free! On all e-book platforms! You can find it wherever you like to shop! It's kinky, funny, and touching…and kinky. In all honesty, it's mostly m/f, f/f, f/f/m BDSM and sex, but the story is good, too. LOL!
GET YOUR FREE COPY of TOP STUDENT! AMAZON | B&N | SAMHAIN
When it comes to love, limits are negotiable.
A Come Again story*
Kat St. James is the Come-Hither Queen of the Silver Screen, irresistible to everyone—except the woman she secretly loves, childhood friend Bonita Pritchard. Kat's come home for a visit, and discovers Bonita has left town to avoid her—for the third summer in a row.
Hurt and angry, Kat heads for Come Again, Bonita's sex-toy boutique, for clues that will help heal the rift between them. There she encounters Destiny, who gives Kat the shock of her life. Bonita's become a sexual submissive.
Destiny also offers Kat the opportunity of a lifetime: the chance to learn the BDSM lifestyle from the experts. Only then will there be any chance to reconnect with the woman she loves.
Except becoming everything Bonita needs means giving up the one thing she's fought her entire life to attain. Complete control. Top to bottom, it's a challenge that will push her past her limits.
Warning: This book contains discipline demonstrations that range from hand to cane, a captivated voyeur, a Dominant struggling to learn submission, two very satisfied instructors, and enough kinky teacher/student roleplaying to make you want to go back to school.
*This short story is a prequel to GIRL TROUBLE but can definitely be enjoyed as a sexy standalone.
Excerpt:
Since they had been apart, Kat drank too much and indulged in other mildly self-destructive behaviors to fill the void. It made her crazy to learn Bonita was equally miserable—and twice as stubborn. If Bonita let people hurt her to make her feel better, what else might she do? Drugs? Unsafe sex? Jump out of airplanes?
"Tell me how to find her. I need to know where she is. Is she safe?" Terror turned Kat's vision black. What if Bonita had gotten herself in over her head and was stranded somewhere, alone and in danger? Breath shuddered in and out of Kat's lungs, and the room began to spin. Panic pumped through her, making her gasp.
Hands forced her head between her knees and held it there. A deep voice near her ear commanded, "Breathe with me. In and out. To the count of four. One, two three, four…that's it. Again."
It hurt to slow her breath, but the hand on her head demanded obedience. More strong hands grasped behind her knees, maintaining close contact. Johnny's temple brushed hers, and she realized he was kneeling in front of her while Destiny curled over her back. "We've got you. We'll keep you safe. Bonita is safe, too. Just relax."
"I can't." She almost panicked again when she realized how little it had taken to make her lose control. If she was this close to the edge, how must Bonita feel? She needed to find her.
"Another shot then?" The humor in his voice broke through her anxiety, and the band around her chest loosened. Johnny scooped her up and settled her on the couch between him and Destiny. It was comforting to be flanked by two strong bodies and to not have to pretend she wasn't shattered by Bonita's absence.
"I can't tell you how to find Bonita." Destiny's voice held an apology.
Kat let the pain wash over her, sensing she wasn't going to drown again. For some reason, these two could keep her head above the waves of pain. She opened her eyes and saw Destiny and Johnny sharing a long look.
"But we can teach you anything you want to know about BDSM, and perhaps that will bring Bonita to you. You said you haven't seen her for three years, right?" Destiny raised an eyebrow.
Kat nodded.
"That's about how long she's been subbing."
It took a minute for the implication to sink in, but when it did, she felt dizzy again. She rested her head against the back of the couch and closed her eyes, allowing memories to surface. She and Bonita teaching each other to kiss. Playing doctor…teacher…secretary. Learning how to please each other. In every scenario, Kat had been the aggressor, but Bonita had eagerly participated. Kat had never consciously recognized the roles they had fallen into so naturally.
Was Bonita using BDSM as a substitute for Kat? If so, it seemed to be working. Bonita wasn't taking her calls, answering texts or acknowledging her existence.
I'm going to punish her for that.
Her eyes blinked open, and she raised her head. The urge was undeniable, and it was nothing new. Kat's dominance and Bonita's response to her underscored every facet of their relationship. Bonita thought playing power games with strangers was satisfying? Kat had news for her. If Johnny and Destiny could teach Kat about BDSM, which now seemed like a more sophisticated version of Kat and Bonita's childhood games, she could show Bonita exactly how much more satisfying power games could be—with her. For the first time since she'd arrived in Norton and found Bonita gone, Kat felt optimistic. If Bonita was still running, then she still cared, and that meant Kat had a chance.
All she needed to do was learn the rules.
Hope rose inside her, but as she looked back and forth between Destiny and Johnny, she knew it would never work. Destiny radiated authority, and Johnny looked like he'd rather break than bend. Neither seemed likely to allow her to practice on them, and as for letting them dominate her… "There isn't a submissive bone in my body."
Johnny's smile was wicked. "There is if you choose it."
"What do you mean?"
"If you asked me to force you to your knees and make you find the submissive bone in your body, I could do it." He held her gaze. "Not because I'm dominant—although I am—but because you asked me. Because you want it, and you've given consent. You aren't submissive by nature, but Bonita is. Every Domme who plays at Upstairs adores her. If you love her, we can make you understand what she needs."
"I know what she needs." Jealousy licked up her spine again. Those Dommes couldn't adore Bonita half as much as she did, yet Bonita had chosen them over her. "But apparently I have a lot more to learn about how to give it to her. Let's do it."
He nodded once, sharply. "We'll start tomorrow."
"Now," Kat insisted.
Johnny shook his head, pointing at the tequila bottle under the table.
"I don't do anything drunk I wouldn't do sober," Kat protested.
Destiny squeezed her knee. "Johnny's right. If we're going to engage in deviant activities with the world's most beautiful actress, then we don't want it to be because we got her drunk. We want your full consent. We want every sigh, every sob and every scream to be stone-cold sober and genuine. Think about it. I'll give you some books so you can read about it. Give it your full consideration tonight, and get back to us tomorrow. Between the two of us, you can observe and experience the full spectrum of power exchange." Destiny winked. "If you say yes, you will officially make me the best girlfriend ever."
"What exactly am I saying yes to?" Kat asked. Her attention had paused at sigh, sob and scream.
"You are saying yes to engaging in BDSM with the two of us. That stands for bondage and discipline, domination and submission—"
"I know what BDSM means."
Destiny nodded. "You are also saying yes to exploring conscious control over the power in your relationship with Bonita."
"Yes," Kat said instantly. Kat having any sort of power in their relationship would be an improvement.
Johnny stood and held out his hand to Destiny. She took it and he pulled her to her feet, pressing a kiss to the back of her hand. "You are definitely the best goddamn girlfriend ever."
He cocked an eyebrow at Kat. "Shall we begin?"
~~~~~~~~~~~~
And now back to our regularly scheduled bikers and aliens…
AMOROUS OVERNIGHT
What's better than one hot alien at your service? Two hot aliens in your bed.
After four months of orbiting Earth in a spaceship bursting with sex-starved aliens, nurse Shelley Bonham will do just about anything to get off. The ship, that is.
Not that the aliens aren't hot enough to put her hormones on red alert. In fact, the more time she spends with the Garathani leader Cecine and his personal guard Hastion, the more she wants them. Knowing what Cecine and Hastion are doing to each other when nobody's looking only makes it harder to keep her hands to herself.
But she's already been betrayed by one alien—her dead douchebag of a husband. Can she trust her future—and her children—to another?
Warning: Contains the usual Robin L. Rotham smorgasbord of m/m/f ménage and D/s elements, plus a shipload of alien alphas in outer space.
Versus:
RIDING DESIRE: Alpha Bad Boy Biker Box Set
Hop on for the ride of your life in this NEW exclusive limited edition box set of 14 never before published books from the industry's hottest authors in contemporary romance.
Whether you crave alpha heroes, possessively wicked boyfriends, sexy inked rock stars, or passionately naughty lovers, Riding Desire will fulfill your bad boy biker fantasies like no other boxed set you've ever read.
Which one tickles your pixie? Be sure to leave us some way of contacting you in your comment! Thanks for having me, Smutketeers! And thank YOU for stopping in to talk alphas with me!
~~~~~~~~~~~~
Miranda's Bio:
It makes me chuckle to think about all the romantic short stories I wrote in my rather too literary creative writing classes in college. If only one of my professors had steered me toward popular fiction! On the other hand, if I had discovered my calling back then, I wouldn't have gone to culinary school, I wouldn't have met my husband, we wouldn't have had three children and I wouldn't have turned to erotic romance to get my mojo back during all this hair-raising kid raising.
If you'd like to chat more, please visit:
My den of iniquity http://www.mirandabaker.com
My home away from home https://www.facebook.com/MirandaBakerfans
My favorite hangout https://twitter.com/Miranda_Baker
by robinrotham
on Feb 27th, 2014
16 Comments »
Today the Smutketeers welcome the lovely Ruby McNally, whose first novel Crash is set to debut at Samhain Publishing on March 4th!
Contest!
Today one lucky reader will win an e-copy of Crash and a $10 Amazon gift certificate, so be sure to leave a comment welcoming Ruby in the traditional warm Smutketeer style! (Okay, so just leave kind words instead of dirty pictures. Those won't post in the comments—we've tried.)
A year ago, after a gut-wrenching shift at work, Taryn Falvey made a huge mistake: she fell into the arms of fellow paramedic Nick Kanelos—and into his bed. Since then they've kept their distance, knowing their lives are too messy to mesh.
Taryn's got her hands full keeping her many siblings and alcoholic mother from slipping into grinding poverty. A normal relationship—a normal life—isn't even on her radar.
After that desperate night of passion, Nick retreated to the big, empty house he used to share with his late wife. Now it's just him, his mutt, and his memories rattling around the empty rooms. He's taught himself not to need anything or anyone too much, but he hasn't been able to get Taryn off his mind.
As inevitable as gravity, life brings Taryn and Nick spiraling back into each other's orbit. As their attraction reignites, the only question remaining is whether two professional rescuers are capable of saving themselves—and each other—or if they're diving heart first into certain disaster.
Warning: This work contains two sexy, screwed-up paramedics, a slobbery mutt, and enough countertop sex to change how you view your kitchen entirely.
Excerpt:
They eat in silence for a while, Taryn picking at his fries on top of her onion rings.
Nick can't think of what to talk about. Riding together leaves you with the oddest, most lopsided body of knowledge about a person, and though he knows Falvey's tampon brand and her favorite foods, he's got nothing on her family or her thought processes, what she'd wish for if a genie ever said boo. It makes for a strange brand of familiarity.
Finally she sucks down the last few slippery bits of onion, propping her chin on her hand to watch him. She's got nice eyes, Taryn, pale and witchy gray-green. Nick happens to know that underneath the makeup her eyelashes are the same golden color as her freckles.
"What?" he asks, setting down the burger.
Taryn shrugs. "Nothing." But the line of her jaw is set like it's something. Nick watches her sneak a mushroom off his burger, not shy about leaning into his space. "I was waiting," she admits after a beat, picking up the thread of their earlier conversation
like they never stopped talking. "For you to show, I mean."
Nick feels himself go still.
Falvey isn't done. "Possibly I, uh, might need a ride home later."
Which—huh. Nick can't tell if she means it as an invitation or not. "That so?"
Taryn raises her eyebrows, playful. "Yeah," she says, grinning. "That is so."
He thinks about kissing her then, thinks about curling his hand around the back of
her pretty head right here in the middle of the bar. Just to see how she'd react. Nick's not entirely sure what he's after with Falvey, is the flip side of things, if it's just that he's bored and trying to scratch an itch or if it's something else. The night of the fire, her chin tipped up and the way she said his name? He thought maybe it was something else.
They're still looking at each other when Doc calls out to Taryn from across the bar, engaging in a series of exaggerated pantomimes that translate roughly to I need to pee and you should too. Falvey rolls her eyes. "Duty calls," she tells him, sliding off her barstool. She nudges her warm thigh against his before she goes. By the time she gets back Lynette's made herself at home beside Nick, going on about the new Italian place in Stockbridge—her husband's out of the doghouse, apparently. Nick watches Falvey size up the situation, then follow Doc over to a table with some of the other rookies.
So. That's the end of that, he guesses.
For a girl who was waiting on him she sure stays far away the rest of the night, beating Doc's boyfriend at Buck Hunter and nursing a pint of Sam Winter, laughing like she hasn't got a care in the breathing world. Nick can feel her though, this weird awareness of where she is in the bar at any given moment, like she's giving off some kind of hum only he can hear. He orders another beer, minds his own business. Taryn doesn't.
At around eleven he comes out of the bathroom and finds her waiting, leaning against the wall next to the ancient pay phone like there's no place she'd rather be.
Nick blinks. "Hey," he says. There's the narrowest strip of skin showing between her waistband and her shirt. "Where you been?"
Taryn smirks. "Like you weren't watching."
Halfway between Audra's age and his, Nick reminds himself. Still. "How d'you figure that?" he asks, leaning in to prop an arm against the wall, close but not close enough to crowd her. It's private here, a long, dim hallway snaking around the back of the bar, but Nick feels compelled to leave room for the Holy Ghost anyway. All these stops and starts have made him cautious. "Been watching me watch?"
Falvey tips her chin. "Just a hunch," she supplies, shrugging with the easy grace of a
person who knows she's not wrong. Her pale cheeks are flushed, the beer or the stuffiness or both. "Anyway. Could be I need that ride now."
Nick isn't ready to let her off the hook. "Could be, huh? You don't know for sure?" He's been waiting on her, is the truth—normally he would have left an hour ago.
"Maybe I just didn't want to interrupt your evening." Falvey shrugs, uncrossing her arms and pushing off the wall like she intends to lead the way to the parking lot. Only then she stops short.
"God, seriously, are you ever gonna make the first move?" she asks, one hundred and ten percent out of the blue. Her laugh is unexpectedly nervy. "It's been my turn twice."
Nick's eyebrows damn near hit his hairline. "Your turn—Christ, Falvey, this isn't a game of Go Fish."
Taryn smirks, mirroring his expression, but underneath the clowning she looks nervous. "So? Tell me to get lost then." She's still standing inside the cage of his arm.
It's easy to make the first move when you're as sure of the other person as Falvey is of him, Nick reminds himself. He ought to tell her that and walk away.
He doesn't.
Her mouth tastes like Sam Adams and medicinal lip balm. Nick fists his hand in her messy red hair and holds on. "There you go," he says finally, pulling back. God, she's only been broken up with Pete a couple of weeks. "First move."
"Mm-hmm." Taryn blinks at him, those green eyes taking on a gold tint in the dim light of the hallway. Nick can hear the sounds of the bar drifting around the corner, Springsteen and a spray of Jerry's horsey laughter. "Congratulations."
Nick blows out an irritated sigh. He knows he got to her, the slightly labored way she's breathing and the blush that's crept down her chest. But fine. If she wants to be a pain in the ass, then she can be a pain in the ass. "You want me to drive you home, or what?" he asks.
Taryn's pale eyebrows lift. "In a minute." Nick's dropping his hand from the wall when she grabs it, lacing her fingers through his. "I told you," she says, when he looks at her curiously. "I did it twice."
She did it— Christ, Nick's pretty much had enough of fucking around here.
Maybe Falvey has too, because she kisses him right back this time, letting him lick his way into her mouth and press her up against the wall. Nick can feel her everywhere at once. When she nips along the edges of his tongue, he lets out a growl before he knows he's going to do it, hips pressing hers back into the plaster. Taryn gasps.
"Good?" he asks, then doesn't wait for an answer. Instead he tucks one hand against the nape of her neck underneath that waterfall of hair, back where the skin is so hot and so soft it's all he can do not to turn her around and set to sucking, not to haul her into the bathroom and pull those tight jeans down around her thighs. Taryn grins a cheeky grin against his mouth.
"Knew you had it in you," she murmurs.
Nick catches her bottom lip between his teeth and tugs. "You're a brat, you know that?" One thigh slides between hers to investigate, pressing up. She's warm there too, all these secret pockets of body heat.
Taryn keeps smiling. "You have no idea."
* * *
~~~~~~~~~~~~
Ruby McNally double-majored in psychology and cognitive linguistics before ultimately deciding her talents lay elsewhere. She grew up hiding her diary from her five brothers, who will never know she wrote this book. She lives in Boston, and has no cats. Crash is her first novel.
Find Ruby!
Tumblr: http://rubymcnally.tumblr.com Twitter: @Ruby_McNally
WINNER
BARB!!
Send email to r.g.alexander@hotmail.com for your prizes :)
by robinrotham
on Feb 25th, 2014
34 Comments »
Yes, my dear readers, it's finally release day for Amorous Overnight, and once again there are amorous enemy aliens on the loose!

Okay, so they're not really enemies, but poor Shelley can't quite make up her mind about that in the beginning, and Cecine gives her plenty of reason to be worried over the course of the book.
When I wrote Alien Overnight, it was probably a good thing I had no idea it was the kickoff of a five-book series or that Shelley, a self-proclaimed "pansy" who belonged firmly planted on Earth, would wind up on a distant planet, mated to the alien leader. If I'd known, I might have just lain down until the urge to write Alien Overnight went away. There were simply too many questions I couldn't answer by sitting down and plotting the book in advance. How could a tiny terrified Terran and a domineering alpha alien possibly fit together (and I don't mean just physically)? What could they possibly see in each other? What could they possibly have in common? How can each alien hero I write be more of an asshole than the last? Where did Hastion fit into the picture? How in the world was I going to take all that and turn it into a happily-ever-after romance for any of them? It seemed like the whole setup was one gigantic insurmountable barrier to love.
Fortunately, my sadistic Dominant muse tied it all together for me—I just had to await his pleasure. Again. (For those of you who don't know how my muse operates, read this post. And this one.) As my reward, I finally got the undeniable satisfaction of once again bringing one of my alpha asshole heroes to his knees. It's good to be a writer. *grin*
Blurb:
What's better than one hot alien at your service? Two hot aliens in your bed!
After four months of orbiting Earth in a spaceship bursting with sex-starved aliens, nurse Shelley Bonham will do just about anything to get off. The ship, that is.
Not that the aliens aren't hot enough to put her hormones on red alert. In fact, the more time she spends with the Garathani leader and his personal guard Hastion, the more she wants them. Knowing what Cecine and Hastion are doing to each other when nobody's looking only makes it harder to keep her hands to herself.
But she's already been betrayed by one alien—her dead douchebag of a husband. Can she trust her future—and her children—to another?
Reader Advisory: Contains the usual Robin L. Rotham smorgasbord of m/m/f ménage and D/s elements, plus a shipload of alien alphas in outer space.
R-Rated Excerpt:
Cecine slouched against one arm of his chair while he continued to pluck morsels from his plate. "Congratulations, Ensign," he said in a casual tone, "your boldness has served you well. I'm prepared to offer you second position in my bond with Shelley Bonham, provided you're willing to offer certain concessions in return."
Hastion blinked in disbelief. Just like that, he was second? "Name them, sir. They're yours."
The minister smiled wryly. "You may wish to reconsider that stance, Ensign, once you hear them."
"With all due respect, sir, I sincerely doubt it."
"All right." He tore off another piece of bread and dragged it through his jelly. "First, for her own safety and that of everyone else aboard, Ms. Bonham will not be informed of our mating for the next few months. I've discussed the matter with Dr. Tiber and he sees the wisdom of allowing her time to recover from her husband's death and betrayal, and to adjust to the demands of motherhood, before we add to her concerns."
Caught off guard, Hastion frowned. He disliked the idea of beginning their bond with a lengthy deception—that was why he'd offered himself as second, to help her adjust to the mating. But arguing with the minister hardly seemed prudent.
"She has been through a great deal," he began tentatively.
"Yes, she has," Cecine agreed, "and since she's allowed up to a year's post-partum exclusion from intercourse, I see no point in rushing to inform her of our bond. The more time she has to dread the mating bed, the more likely she is to do something foolish and potentially deadly to evade it the way your sister did, especially while Earth is still within visual range."
It was a valid argument but still Hastion hesitated. He valued Shelley's ease with him more than just about anything in his life at the moment. At the compound, she'd never tensed around him the way she did most of the warriors, and though she tended to turn pink and avoid eye contact after the interspecies mating demonstration, she'd always had a shy smile for him. When the infected steripod attached itself to Dr. Ketrok in the infirmary just a week ago, she'd burrowed into his bare chest as though he were the only thing standing between her and certain death, and Hastion had never felt more powerful—or more humble.
"Sir, Shelley trusts me," he finally said. "If I deceive her—"
"Your objection is noted, Ensign, and you may lay the blame for the deception squarely at my door. But the news of our mating will remain restricted to males until I decide otherwise. That's non-negotiable. I can't imagine that Monica and Jasmine would be able to keep such a thing from her."
And that was the end of that. "As you wish, sir."
Cecine finally poked the jelly-laden bread he was holding into his mouth and chewed slowly, watching Hastion as though weighing him in his mind. Just when Hastion was about to expire from the suspense, he continued, "Second, I've decided that until such time as Ms. Bonham is able and willing to accommodate me in the mating chamber, I must have another mate who will do so."
Confused, Hastion frowned again. Males could only be bonded to one female. Surely even the minister wasn't entitled to—
"I understand this sort of service is not a generally accepted provision of the ancillary mating agreement and I'll bear you no ill will if you're disinclined to accept. I'm sure I'll find another male who's willing to do so."
Hastion's breath left him and he broke into a hot, prickly sweat. Holy Powers, had the minister of the high council just announced a desire to fuck him?
Tugging on his collar, which suddenly seemed to be strangling him, he managed to ask, "Sir, what, exactly, are you requiring of your second?"
The minister leaned forward with a penetrating look, resting his long, pale forearms on the table's white surface. "If you accept the terms of my offer, you're agreeing to be sodomized at some reasonable and mutually agreed-upon interval until such time as Ms. Bonham's exclusion has been lifted and she's willing to offer herself in whatever capacity she is able."
Hastion stared back as the word sodomized echoed in the suddenly empty cavern of his head, his heart pounding so violently in his throat it actually made his breath sounds pulse. Although there was no Garathani equivalent for that word, he knew all too well what it meant…
~~~~~~~~~~~~
Contest!
To celebrate my latest Alien release, I'm giving away a Kindle Fire! Just follow me on FB and/or Twitter, sign up for the Smutketeers newsletter, and pimp Amorous Overnight, then leave a comment about it here and voila—you're entered!
May the Force be w— I mean, good luck!
by R.G. Alexander
on Feb 18th, 2014
113 Comments »
It's here! It's here!
14 authors, 14 BRAND NEW stories, LOW LOW price! lol
Seriously though. HUGE BOOK… itty bitty price
Available at AMAZON and B&N NOW!!!!
Let's take a look and then have a CONTEST!!!!!
This accountant is about to learn that one rough biker plus three of his friends equals a HOT RIDE she'll never forget. By Opal Carew.
One sexy rookie cop. One seductive outlaw biker. One unforgettable one-night stand. Sarah Castille's sexually explosive BURNOUT  is a hot and wild ride you won't want to miss!
What happens when a reporter looking for a story is thrown inside an outlaw motorcycle club on the verge of war? Drama, action, and lots of hot sex! SAVAGE HEART by Sara Fawkes
Combine one sassy biker chick with one badass Australian rocker for a full throttle ride in ONE WILD RIDE by Lauren Hawkeye, part of the New York Times bestselling Three Little Words series.
When Aubrey Rhodes comes face to face with the mysterious bad boy Caleb West, nothing can prepare her for the wildest ride of her life in FULL THROTTLE by Adriana Hunter.
In HEART RACER, the first of Marian Tee's new biker series, notorious underground moto racer Leandro Christopoulos needs to convince snarky philanthropist Roberta "Bobby" Granger he's in love with her…even if he's not.
Mari Carr
's latest romance, CRASH POINT, proves nothing could be hotter than a former bad boy biker looking to make good, the sexy photographer he loved and left and those sultry New Orleans nights.  
Who doesn't love a little rumblin' between the thighs? Join Tessa Savage on a wicked ride of corruption and seduction in HOW TO DEBAUCH A BIKER, the latest in the Savage Series by Daire St. Denis.
Listen up, adrenaline junkies: your pulse will roar as if you're street bike racing when you meet gorgeous speed junkie Sawyer Tremaine in FAST AND MINE by Sharon Page.
Delilah is caught between an old crush and a new attraction…she's in for one wild ride. R.G. Alexander's ménage romance DIRTY DELILAH is guaranteed to rev you up!
If you love snarky socialites and dominating NYPD motor cops than get ready to laugh your ass off with

LOVE, LEX

 by Avery Aster.
Romance, redemption and chrome-plated sizzle! Nothing can bring this Dominant rock star to his knees like the ex-wife he's never been able to forget in Eden Bradley's OBSESSION!
When a birthday girl's plans go up in dust along with her broken down car and lying jerk of a boyfriend, there's only one hot mechanic who knows how to make it all better in Roni Loren's NICE GIRLS DON'T RIDE.
Rev up the heat and take a ride on the wild side with Rio's sexiest off-road motorcyclist in CONQUISTA by Suzanne Rock.
****CONTEST****
Okay Smutkedettes and friends,
Your mission, should you choose to accept it, is to gather a posse of friends and and play our BIKER PIMP DASH!
5 winners!!!!
Prizes: $100, $50, $25, $20 and $10 Amazon Gift Cards!!
What do you have to do for all this awesome?
Collect points. Points are like miles in the dash, and you don't even have to run (which is always a good thing)
100 points: Pimp the Anthology on FB with a hashtag #BikerPimpDash (Addition: Also #RidingDesire) and a link to Amazon and post it here to let us know
50 points: Tweet about the antho with the hashtag #BikerPimpDash
300 points: Buy the book for .99, read it and if you like it, leave a review on Amazon and/or Goodreads
100 points: Comment here and tell us how excited you are about this anthology
Enter as many times as you like-dual sharing entries will each get 20 extra points!
You have one week to play. The winner will be chosen on Feb 26th.
PS**** You have to tell me in a post below what you did. Because I'm a scatterbrained author and its hard to keep track. lol
****EXTRA**** RIDING DESIRE RAFFLECOPTER BLITZ OF AWESOME a Rafflecopter giveaway
WINNERS OF THE BIKER PIMP DASH!!!!!!
Everyone was AMAZING!! Thank you thank you for all your dashing! You rock! The Smutketeers love you! We only had 5 possible winners but you all did so amazing-it was close!! If you don't win we are having another gift card giveaway at our yahoo group until Thursday OR you can go to the next post on this blog and enter Smutketeer Robin l Rotham's contest for a Kindle Fire! We're givers *wink*
Winner #1 For pimping like a pro- the gatherer of points and dasher of disaster lol-$100 gift card winner is ElainG8!!
Winner #2 for going above and beyond and making sure the posts definitely got through! $50 gift card winner is Chris!!
Winner #3 Right up there in the points-the 3rd winner of the $25 gift card has to go to Angela Nelson!!
Winner #4 Winner of the $20 gift card is Theresa Beck!!
Winner #5 The final winner of the $10 gift card is June M
Send an email to r.g.alexander@hotmail.com with Biker Pimp Dash Winner in the title and I will send you your Amazon gift card!
ALL FOR SMUT AND SMUT FOR ALL!!
by edenbradley
on Jan 30th, 2014
12 Comments »
I'm thrilled that my book THE SEDUCTION OF VALENTINE DAY is out today in the UK! This book is the story of a prostitute. Sounds odd, I know, but she has a story to tell. And the hero, Joshua, is based on a real guy…and that's all I'm going to say!
She lives in a world of silk sheets, champagne, and expensive hotels.
She fulfills the deepest fantasies of the most powerful men in the world: Valentine Day is a high-class call girl, pampered and adored by her exclusive clientele.
But Valentine has a secret. Always in control, she's never experienced true pleasure. But now, the woman who spends her life pleasuring others is about to embark on an erotic journey of her own.
~~~~~~~~~~~~~~~~
EXCERPT:
I learned about something called suspension of disbelief a number of years ago in one of my English Lit classes. This is when a writer must make their reader suspend their disbelief in the unusual long enough to be drawn in and believe in the world the writer has created.
It's something like that with my line of work. Our clients must suspend their disbelief long enough to believe the girl likes it. My particular 'talent', if you want to call it that-my particular perversion, really-is that they don't have to do that with me. The truth is, I love it.
This is my dirty little secret. Because this is supposed to be taboo among the professionals of my world. Call girls. Prostitutes. Hookers. It doesn't matter what you call us. The fact is, I get paid for sex. And it's the only kind of sex I can get off on.
Who knew a nice Jewish girl from the Valley could end up here? Well, half Jewish, anyway, my father being a lapsed Catholic. And maybe I've never been all that nice.
I grew up in Van Nuys. Van Nuys is possibly the most generic, boring place on earth. Middle class, cardboard box houses that all look the same, block after block. The entire area looks as though a dull film has settled over it.
My family was at the lower end of the middle class. Not that we were poor. We always had a roof over our heads, food on the table. My father, a construction foreman, worked a lot, but he spent his money anywhere but at home. My mother never did much other than drink. Strange that he wasn't the drinker. Jews don't tend to be drinkers. Not that it ever stopped my mother. But my life has been a combination of the utterly dull and the most perverse, in every way, on every level. Classic hard life story, I know, but that's my life. Or it was. Too fucking bad.
I make a lot of money. Enough to keep me very comfortable in my Hollywood Hills home. Enough to pay for the expensive clothes I buy at Barney's and Kitson, my weekly facials and massage at the spa. Enough to pay for the breezy little Mercedes I drive, if it hadn't been a gift from a happy client. This is why I do it.
Actually, that's a lie. It's what I tell myself when I'm not in the mood for the kind of deep, soul-searching honesty that keeps me up at night. How I justify it in the most basic, simple terms.
The truth, or part of it, anyway, is that I began in this business because I needed to distance myself from what I was before. From that lower middle class Jewish girl from the Valley whose mother was always passed out on the couch, surrounded by a sticky puddle of whatever she was drinking on the floor, the overflowing ashtrays. Repulsive. I won't even allow my clients to smoke around me. If they don't like it, they can find another girl. I'm at a point in my career where I can make a few demands of my own, and I do.
I am someone else entirely now.
~~~~~~~~~~~~~~~~
Buy it now on Amazon     Waterstone's     WH Smith    Foyles
GIVEAWAY!!!! Take a look at the book on my website and tell me which of the three covers you prefer-this one, the original version or the US re-release version with the rose. One commenter will win an e-copy of my book THE LOVERS! A winner will be announced in the comments section here on Saturday, February 1st US time!