by edenbradley
on Mar 15th, 2009
leave a response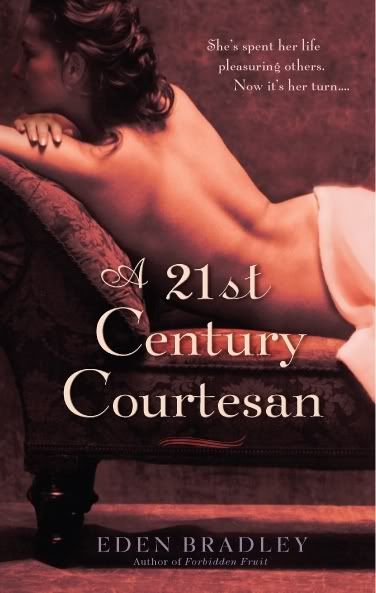 My next novel from Bantam/Delta, A 21ST CENTURY COURTESAN, will be out on March 24th, so I thought I'd post a teaser here for you curious folks. I'll post more as we get closer, a new excerpt every few days, so be sure to come back! But first, a little about the book…
She's spent her life pleasuring others.
Now it's her turn…
A 21ST CENTURY COURTESAN
Eden Bradley
She lives in a world of silk sheets, imported champagne,
and endless erotic delight…
She fulfills the deepest fantasies of the most powerful men in the world. Sensual, seductive, and discreet, Valentine Day is a high class call girl, pampered and adored by her exclusive clientele. But Valentine has a secret. Always in control, she's never experienced true pleasure outside of her work. But all that is about to change…Now, the woman who's spent a decade pleasuring others is about to embark on an erotic journey of her own…
It happens one night at the opera. Seated next to her in the dark is a stranger. As the music swells, so does the sexual tension. Gorgeous, sophisticated Joshua Spencer invites her for a drink, and soon she's fantasizing about taking him home. When they finally come together in a night of the wildest lovemaking Valentine has ever known, she's hooked. But suddenly Valentine is questioning everything. Joshua has no idea what she does for a living. Can she risk everything—including her hard-earned freedom and one final, shattering secret—for one man? And would he still want her if he knew the truth?
******
And now, here's the first behind the scenes look at A 21ST CENTURY COURTESAN…
I learned about something called suspension of disbelief a number of years ago in one of my English Lit classes. This is when a writer must make their reader suspend their disbelief in the unusual long enough to be drawn in and believe in the world the writer has created.
It's something like that with my line of work. Our clients must suspend their disbelief long enough to believe the girl likes it. My particular 'talent', if you want to call it that-my particular perversion, really-is that they don't have to do that with me. The truth is, I love it.
This is my dirty little secret. Because this is supposed to be taboo among the professionals of my world. Call girls. Prostitutes. Hookers. It doesn't matter what you call us. The fact is, I get paid for sex. And it's the only kind of sex I can get off on.
Who knew a nice Jewish girl from the Valley could end up here? Well, half Jewish, anyway, my father being a lapsed Catholic. And maybe I've never been all that nice.
I grew up in Van Nuys. Van Nuys is possibly the most generic, boring place on earth. Middle class, cardboard box houses that all look the same, block after block. The entire area looks as though a dull film has settled over it.
My family was at the lower end of the middle class. Not that we were poor. We always had a roof over our heads, food on the table. My father, a construction foreman, worked a lot, but he spent his money anywhere but at home. My mother never did much other than drink. Strange that he wasn't the drinker. Jews don't tend to be drinkers. Not that it ever stopped my mother. But my life has been a combination of the utterly dull and the most perverse, in every way, on every level. Classic hard life story, I know, but that's my life. Or it was. Too fucking bad.
I make a lot of money. Enough to keep me very comfortable in my Hollywood Hills home. Enough to pay for the expensive clothes I buy at Barney's and Kitson, my weekly facials and massage at the spa. Enough to pay for the breezy little Mercedes I drive, if it hadn't been a gift from a happy client. This is why I do it.
Actually, that's a lie. It's what I tell myself when I'm not in the mood for the kind of deep, soul-searching honesty that keeps me up at night. How I justify it in the most basic, simple terms.
The truth, or part of it, anyway, is that I began in this business because I needed to distance myself from what I was before. From that lower middle class Jewish girl from the Valley whose mother was always passed out on the couch, surrounded by a sticky puddle of whatever she was drinking on the floor, the overflowing ashtrays. Repulsive. I won't even allow my clients to smoke around me. If they don't like it, they can find another girl. I'm at a point in my career where I can make a few demands of my own, and I do.
I am someone else entirely now.
*******
That's all you get for now, unless you'd like to pre-order it on Amazon….Meanwhile, you can pick up my Harlequin Spice anthology, NAUGHTY BITS, at your local bookstore or on Amazon, Barnes & Noble online, or Border's online. This is an amazing collection of sexy stories from some of Spice's best authors!