by edenbradley
on Mar 24th, 2009
leave a response
Today is a big day for the Smutketeers! Both RG Alexander and Eden Bradley have releases today. Ooh-we're releasing simultaneously-sounds kinky!
Eden's new book, A 21ST CENTURY COURTESAN, is out today! You can find it on Amazon, Borders.com or Barnes & Noble online, on Fictionwise, or at your local bookstores! Here's a little blurb from A 21ST CENTURY COURTESAN:
She's spent her life pleasuring others…Now it's her turn…
She lives in a world of silk sheets, imported champagne, and endless erotic delight…
She fulfills the deepest fantasies of the most powerful men in the world. Sensual, seductive, and discreet, Valentine Day is a high class call girl, pampered and adored by her exclusive clientele. But Valentine has a secret. Always in control, she's never experienced true pleasure outside of her work. But all that is about to change…Now, the woman who's spent a decade pleasuring others is about to embark on an erotic journey of her own…
It happens one night at the opera. Seated next to her in the dark is a stranger. As the music swells, so does the sexual tension. Gorgeous, sophisticated Joshua Spencer invites her for a drink, and soon she's fantasizing about taking him home. When they finally come together in a night of the wildest lovemaking Valentine has ever known, she's hooked. But suddenly Valentine is questioning everything. Joshua has no idea what she does for a living. Can she risk everything—including her hard-earned freedom and one final, shattering secret—for one man? And would he still want her if he knew the truth?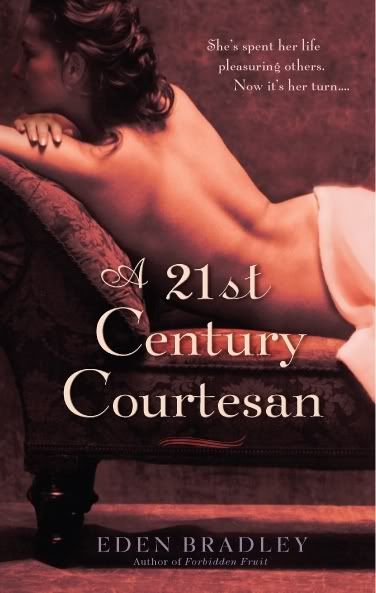 * * *
RG Alexander's new book, SURRENDER DOROTHY, her sequel to NOT IN KANSAS (also available on the Samhain website) is out today from Samhain Publishing! You can find it on the Samhain website, and on Fictionwise
Here's a little peek:
What Happens When a Wicked Wizard Woos a Wary Witch?
Dorothy knows her new neighbor is too wicked to be trusted. As a natural witch, she recognizes the Wizard for what he truly is. As a woman, she recognizes him as a threat to her sanity.
Z has tried everything. Pursued her in dreams, bribed her cat, enticed her with peep shows meant to whet her appetite and drive her crazy. And still she resists. What's a Wizard to do? He came to Earth to have an adventure, not lose his heart to the one witch whose guard he can't get past.
When he finally gets his hands on her, the power between them is undeniable. But Dorothy's family secret could make him sorry she surrendered.
Warning: Voyeurism, lurid dreams, raunchy dirty wizard sex in public places.


* * *
So, we thought we'd talk a bit about our books, life, writing, and smut in general (always a favorite topic).
EDEN: So RG, tell me about SURRENDER DOROTHY. I mean stuff that's not in the blurb.
RG: SURRENDER DOROTHY is a sexy comedic romp full of strange characters that takes place partly in Venice Beach, California, and partly in an Oz-like world. I love to read the dark and mysterious, the down and dirty stuff, but as a writer I have so much fun writing humor in sex. I love to laugh and I love characters who are quirky, flawed and fun!
EDEN: Tell me about the characters in SURRENDER DOROTHY-and do you have a favorite?
RG: I don't have Munchkins or flying monkeys-(insert Eden's disappointment at the lack of flying monkeys, but do go on), but I do have a large assortment of other strange characters. I think my favorites are…well, I really like Dorothy's horrible step-sister, Emily. She's just horrid and selfish and very vain, but when she gets to Oz, you find that she's not exactly what she seems. She has a humanity in her that comes to the surface there, and it makes her an interesting character with a lot of growth.
I also love Dorothy and Z, the wizard, and of course, Suki, Dorothy's cat! She's quite a character in her own right. She's named after the real-life Suki, who is, as you know, Eden, our Samhain editor's cat.
EDEN: Z is the hero, and I know you write smokin' hot heroes, so tell me about him.
RG: He is! He's golden and stunning and really dirty! He likes everybody-and I mean everybody. He made an appearance in the first book in this series, NOT IN KANSAS. In that story he was with Kansas and the King, pleasure droids (my version of the Tin Man), you name it. He's a dirty bastard-lol!
EDEN: Sounds like my kinda guy!
RG:Absolutely! My book is a huge contrast to yours, Eden. Talk dark and dirty to me!
EDEN: Oh, you know I like the dark and dirty! A 21ST CENTURY COURTESAN is a dark, erotic story about Valentine Day, a woman who has spent her entire adult life as a high-class call girl, and when she meets a man outside of her profession who makes her re-think her entire existence, she has some tough choices to make.
Oddly enough, there's more of me in Valentine than in any other character I've written. Not that I've ever been a prostitute (insert RG: You mean there's some sexual scenario you haven't experienced??! EDEN: Only a very few…*G*), but a lot of her issues came from deep in my own psyche.
I loved this book because my editor let me do some things that are hard to get away with in New York publishing: it's written in first person, which I loved doing, and I got to put sex scenes with her clients on the page. Hot!
RG: I love that character, I love the depth. What was so fascinating to me was that it's a scenario I couldn't even fathom in real life, yet I knew her-I connected with her in a way that made me root for her.
EDEN: Aw! So, you're really rooting for me. My Smutketeers always have my back. :)
RG: Tell me about Joshua!
EDEN: Ohhhhh, Joshua…he's based on someone I once knew and had unfinished business with. It was great to write the ending I would have wanted to have with him-although I've since moved on. But it was therapeutic to write him. And he's wicked sexy! Sophisticated, yet a little rough and dirty around the edges.
RG: So…speaking of dirty, what's new with you?
EDEN: Currently, I'm working on revisions for my next Bantam/Delta book, THE BEAUTY OF SURRENDER, which is about Shibari, the ancient erotic art of Japanese rope bondage. I'm also breathlessly awaiting the April 7th release of my first menage story, TEMPT ME TWICE, coming from Samhain Publishing! And yes, I've done my research! Have I mentioned how much fun research is for an erotica author? Especially if you have a willing partner, which I do (Yay! And thank you, S.) I know you have The Cookie, and I know he's a dirty, dirty man (lucky girl!). What sort of things have you two been researching?
RG: LOL! (actually, it was more a thirty second spurt of girlish giggling). I'm finishing final edits on TWILIGHT GUARDIAN, which is coming out from Samhain in May, Book Three of The Children of the Goddess series. And I'm getting ready to polish up a novella for Samhain called THREE FOR ME?, a foursome story that I hope will be out some time in the summer. And I'm still working on my Steampunk series that is my homage to my Smutketeers. Everything else we've been researching is private and wrong-not for public consumption, anyway. (another thirty second spurt of girlish giggling).
EDEN: So…let's talk about our contest!
RG: Two lucky winners will be chosen from all of you who comment between now and Sunday night, 12:00AM PST, and winners will be announced on Monday the 30th! Win either a copy of Eden's FORBIDDEN FRUIT (print book), her hot food fetish novel, or a copy of RG's REGINA IN THE SUN, book one of the The Children of the Goddess series or NOT IN KANSAS, which takes place in the same world as SURRENDER DOROTHY (e-books). When entering, let us know if you're in the US or elsewhere, and the winner of RG's book can choose which one they'd like to have.
Meanwhile, a little video for your entertainment: