by Crystal Jordan
on Feb 25th, 2010
leave a response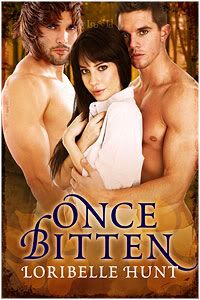 -Tell us about a day in the life of Loribelle Hunt. You've got kids (teenagers, omg!), a cop hubby, and a delightfully Southern extended family. How do you balance it all and stay sane?
Well, first you'll have to tell me what sane is. Because, of course, sane is relative. I have sane relatives so that's good enough, right? Or we could skip the niceties and just call the balancing act what it is. ADD on crack. Yep. That about sums it up.
-What's your writing process like? Do you have a daily or weekly word count that you try to meet? Or do you wait until the last minute and write like a mongoose hopped up on speed?
I call my process the manic depressive insane writer way. I do not recommend it. Basically what happens is I have an editor or publisher or a bunch of readers, ask me for a book. An agreement is reached with a published for a deadline. I always give myself lots of time to do this. Unfortunately, I apparently strive on stress. And then, well, I stress. About characters and stories and plots. Because I got it in my head at some point that books are so easy to read they must be easy to write. Ha! I should be flogged. Oh wait…wrong blog.
Anyway, the serious answer is I tend to write in spurts. I'll write a lot in 2-3 months and then nothing for 2 months. I have tried to change this process but the older I get and the more I write, the more I realize this is just the way I do it.

-If you could give one piece of advice to up-and-coming writers, what would it be? (It's gonna be "always put on clean underwear," we just know it!)
If you must wear underwear, please make it clean! Or you could do like me and take up cigarettes, beer, and mainlining Diet Coke, because if you're starting out sane that probably won't last!
-Some of our readers (and by that I mean every last one of the Smutketeers) may have a slight weakness for the boy-on-boy-on-girl threesome action. Once Bitten has some of that…is this a new subgenre for you, and will you be writing more of it?
Totally new for me! I started writing The Gift (my December Cobblestone release) thinking I was writing a love triangle. And the triangle went in a direction I didn't expect lol! The Gift is a m/m/f story. And Once Bitten. And Twice Shy out this summer. And another as yet unnamed Cobblestone story for the summer will be m/m.

-One word comes to mind when you think of Loribelle Hunt. Okay, two. Alphas and shifters. Do these two naturally go together for you? What makes you lean in the alpha-ly direction?
I love werewolves. I love alpha men. And yeah, they do seem to go together. Lucky for me, I married my alpha man. There weren't any werewolves available. I guess I'm just indulging my married to an alpha werewolf fantasy.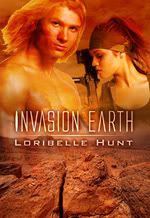 -If you could switch lives with one of your characters, who would it be and why?
Laney Bradford from Invasion Earth. She is totally kick ass. The woman gets to have hot sex and play with assault rifles. What is not to love there?

-Tell us about your purse obsession. You started writing for the money to feed your habit, didn't you? It's okay. You can tell us.
I have a slightly unhealthy love for Louis Vuitton. But obsession? That's just mean.
-And for the question every author hates with the fire of a thousand suns…where do you get the ideas for your stories? (C'mon, you didn't think we'd resist that one, did you?)
Walmart. Where do you get yours? This is such a hard question to answer. They come from everywhere and sometimes nowhere. I'm a big fan of the what if. With Invasion Earth for example I started with, what if you were sleeping with the enemy? And then, what if you were ordered to sleep with the enemy? What would make a woman agree to do that? How do you make that woman likeable? A lot of my books start out in this manner.

-Which books are on your pry-them-from-my-cold-dead-fingers keeper shelf?
All of them? Between me and my girls there are well over 2000 books in this house. Picking absolute favorites is hard. From my romance shelves I would never let go of Suzanne Brockmann, Christine Feehan, Nalini Singh, and Linda Howard. From the rest of the collection-Pat Conroy, Guy Gavriel Kay, Tony Hillerman, Anne Bishop, Nevada Barr…See? You're making me pick here and the list is just way too long!

-Tell us about your current release(s) and what you have coming up next.
I've got a very busy year coming up. Once Bitten releases from Loose Id on February 23. Twice Shy hopefully will be early summer, same publisher. Claiming Earth will be out sometime in late spring, I think. And there are a host of books not currently titled or scheduled. All told, I should have 8-9 releases in 2010.
-Do you have any appearances coming up?
Are you kidding? Revisit the last question. I'll be chained to my desk for the next several weeks. I am planning on attending RT and RWA this year, but in the real world, I mean, online, I have no concrete plans.
-Where can we find you on the Internet?
My website is www.loribellehunt.com. If I'm procrastinating, no brainstorming! I meant brainstorming! Anyway, then I'm likely to be found lurking at Romance Divas. I've also been known to hang around twitter, twitter.com/loribellehunt
*And now for some quick questions…
~Tattoos or piercings?
Both
~On men: In uniform or out of uniform?
Duh. Both.
~Alien or werewolf?
I'm feeling like a broken record here.
~Phone sex or strip club?
Phone sex
~Knee high boots or come-fuck-me pumps?
Fuck me heels. Of course.
~Top or bottom?
No comment.
~Voyeur or exhibitionist?
Where is my lawyer? That guy is always late.
~Stormy beach or snowy mountainside?
I will take a hurricane over a blizzard any day. Long as I am not cold, it's all good.

And for one lucky commenter, Loribelle is letting you fondle all her goodies! Um, what we mean is that she's letting you browse through all the goodies on her backlist and is giving away one book to someone who comments between now and next Monday. Winner's choice. Good luck!