by edenbradley
on Dec 5th, 2012
leave a response

RG the X-mas Elf:

It's time! It's time! It's finally here! Those 12 days The Smutketeers do once a year. With authors and bloggers and prizes each day. And rhymes we made up (while unhitching the sleigh). *G*
This year, I admit, we did something bigger. Something SO crazy. I know, right? Go figure. The Smutketeers tried something wild and brand new–got help from some friends–who of course all came through. They sang and they danced, they all had a blast. And finally…Here it is…Finished…At last.
RG the Xmas Elf: Hope you enjoyed the song made just for you. If you'd like, you could share it with a friend…or two.
Let's spread some Smutketeer X-mas-y cheer, and the elf will start now, to do better next year. :)

But now, and without any further delay…Day One is happening…it all starts today!



~ Favorite holiday movie: My favorite holiday movie is a toss-up…I'm a kid at heart and still love A Year Without a Santa Claus and Nestor the Long Eared Donkey.
~ Favorite holiday tradition: My favorite holiday tradition is decorating the Christmas tree with my family…we usually have cookies and hot chocolate or egg nog and watch a movie while we're decorating.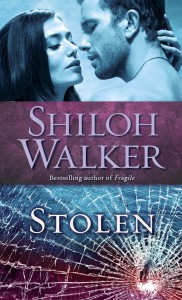 10/2012
Shay Morgan has stayed hidden for a long time. Living a reclusive life in Earth's End, Alaska, she's as far away as she can get from the trauma of her childhood and the man who hurt her long ago. But terror takes over Shay's life yet again when an unknown stalker steals away the fragile peace she's built for herself—targeting not only her but the one man who's ever managed to get past the walls she's built around herself.
Elliot Winter has lived through being falsely accused before—it ruined his military career. Now it's happening all over again. And this time, his accuser is a twisted impostor who's targeting his ex-girlfriend, Shay. Despite a fierce mutual attraction, Shay and Elliot broke up because Shay couldn't let her guard down, couldn't let Elliot in. But now they both need to trust each other to confront a psycho who seems to know all their secrets. 
PRIZE: I'm giving away a signed copy of FRAGILE!
~~~~~~~~
~Favorite holiday food & drink: Roasted turkey and Brandy Alexander
~Favorite holiday song: Judy Garland singing Have Yourself a Merry Little Christmas
~Favorite Holiday movie: A Christmas Story
~Favorite holiday tradition: lighting the Yule log
~Weirdest Holiday ever: was the year that my mum and I traveled by bus to visit my dad who was working in another state. The bus lost our luggage with all the presents and our clothes. So we wore the same thing until we could get new stuff. There were no presents, no tree, no yule log, but we had each other and that was the best gift of all. BTW, We never did get our stuff back. lol
~Best Holiday Memory ever: The year my father and mum and I lived in Niagara Falls, NY and we went to see the festival of lights parade. Afterward, I got to sit on Santa's lap and I told him I wanted a French poodle as big as I was. That Yule, I got roller skates, but eventually I did get a standard sized (large) French Poodle I named Chief Hiawatha. :-)
It takes a very 'special' Santa to grant a mermaid's wish and make her dreams come true.
Merilee Bára Strand loves high heels, sexy stockings, and dancing the night away at some of Florida's hippest clubs. The one thing missing from her life though, is a man to share it with, and she does mean M-a-n. No way was she going to be stuck in the sea, tied to a tail-chasing merman. When she meets club owner Niels Maxwell, she decides Santa has granted her wish. Now if only her family's pesky bodyguard would give her the space she needs to seal the deal.
Soren Dane was once fully human, but the sea took him and gifted him with more. In return for saving his life, he guards the Norse Sea God Aegir's royal descendants. He never imagined his duty would cross paths with a sexy, albeit naive and foolhardy, blond mermaid determined to escape her palace under the sea and find a human mate.
No stranger to hazardous waters, Soren knows protecting Merilee from herself could destroy any chance he has to change her mind, and show her he's more than man enough to love.
PRIZE: A pretty mermaid ornament-autographed on the back by me!
~~~~~~~~
~Favorite Holiday Movie: We have watched the Sound of Music ever year as far back as I can remember. Last year when we were in Ecuador over the holidays, we didn't have a copy with us, so my daughter and I were forced to recite as much as possible from memory, including singing all the songs. The other people on the beach that night gave us some interesting looks, I tell you!
~Favorite Holiday Tradition: We celebrate Sinter Klaas day on December 6. We hang our stockings Dec 1 and over the next few days, stuff them with little treats. On Christmas eve/day we get one more present, and that's it. The stockings celebrated early mean we get to start eating chocolate sooner. ;)

High Risk
Adrenaline, Book 1
LIFELINE: an elite search-and-rescue squad based out of Banff, Alberta. Specializing in high-risk rescue missions, this team goes wherever the job takes them…

Rebecca James was once revered for her devil-may-care attitude and backcountry survival skills. But ever since she lost her partner in a fatal accident, patches of her memory have been missing. And until she can recall those final, tragic moments before the accident, she can't move on.
Since Marcus Landers was permanently injured during a mission, all his energies have been focused on his Lifeline team. When Becki—whom he had an intense affair with seven years ago—arrives in Banff, he's inspired to reignite the spark they once had. Their mutual ardor slowly awakens Becki's dormant, haunting memories.
New truths surface until Becki must at last confront her greatest fear. Remembering the past might mean a future without the man she loves…
PRIZE: Print copy of FREESTYLE (Xtreme Adventures anthology)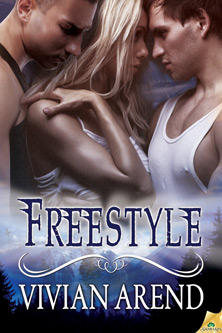 ~~~~~~~~
~Favorite holiday movie: The Christmas Story
~Favorite holiday tradition: The whole family sits down and does a Harry Potter movie marathon plus we watch The Replacements movie with snobby food and mimosas!
In this gritty Urban Fantasy Romance, the first Descendant in millennia with the power to use an ancient artifact is being hunted. By the good, the bad…and the worst.
Every rogue longs for a second chance, right? Wrong. Larien, former angel of The Host is not looking for redemption. What he needs hasn't been seen in millennia but he'll search the ends of the Earth to find it – from the hills of San Francisco all the way to…the Silk Road. This is his sole focus…until he meets Jayla.
Jayla Protegenu learned as a child to call her protectors to keep at bay the things that prowled the night. Now, as a woman grown, she never expected one of those protectors would be a Fallen angel – Larien. His job: to help Jayla find the mythical and mystical Seal of Solomon.
Even among those who created the very meaning of good and evil, nothing is black and white. Neither friends nor enemies are what they appear. Yet even in the midst of chaos, love can conquer all. Literally.
PRIZE: I'm giving away a $25.00 Amazon Gift Card!
~~~~~~~~
~Weirdest holiday memory ever: When my father (parents were divorced) decided to host a party prior to Christmas so that his entire tree could be decorated with empty silver and gold beer cans. Turned out to be a very funny and memorable Christmas.
RISE OF THE KING (King of Prey)
Paranormal Bird Shifter
Warrior, bastard, outcast, traitor to his kind, these are all labels Lazar has worn for the past several years, since he took a stand against the actions of a mad king. He's defended the Kingdom of the Hawks even though the blood of the Falcons runs through his veins. He's bedded their women, drank their mead and protected their king. None of that makes him one of them. An empty pit has been in his stomach for years, believing his true mate perished long ago. When he learns she's alive, he has to not only win her over, but also make her understand men who can shift into birds aren't the things of nightmares. They're real, and he's one of them.
Sabrina lives a relatively sheltered life. Her overprotective uncle means well but can sometimes go too far. When he shows up with a sexy hunk she's dreamed about, it's all Sabrina can do to control her emotions. As old lies are uncovered, she has to decide if she should open her heart to a man who has made using women an art form and who also happens to have wings. Plus, he's more than just any old shifter male. He's the rightful king of the Falco, and it's time he rose to his position and accepted his destiny, even if that destiny includes her.
WARNING: This book contains hot, explicit sex and violence, a dominant, alpha, bird-shifting male who has the rules of seduction memorized and who finally understands he has to take a stand for what he wants. It has a heroine who, while young, knows she won't settle for anything less than she deserves and who finds herself being taught things that make her blush.
Prize: One ebook winner will win winner's choice from Mandy M Roth's The Raven! Book titles can be found at http://ravenhappyhour.com/Mandy_M_Roth_Books.html (winner email mandyATmandyrothDOTcom)
 ~~~~~~~~
 ~Favorite holiday food or drink: I'm really open to anything food related. If someone figures out a way to sneak pasta as an acceptable food during the holidays I'm also very okay with this.
REDEEMER OF SHADOWS (Tribes of the Vampire)
Dark Fantasy Vampire Romance
As a fierce and undeniable destiny pulls them together, vampiric forces beyond their control conspire to tear them apart.
A dark night, a wrong turn, and Hathor Vinceti stumbles into a sinister London underworld that will change her life—forever. Reality as she knows it shatters as she is exposed to the self-seeking indulgences of a group of bored vampires, but also a mysterious man who calls to her across the ages.
Servaes, the Marquis de Normant, survives immortality with a barely restrained hostility against the vampire who sired him, and the young ones who abuse their power. Eternity has never seemed so endless, until Hathor catches his eye
Rating: Contains graphic sexual content, adult language, and violence.
Prize: One ebook reader will win winner's choice from Michelle M. Pillow's The Raven!  Book titles can found here: http://ravenhappyhour.com/Michelle_M_Pillow_Books.html
(winner email michelle_pillowATyahooDOTcom)
~~~~~~~~
GRAND PRIZE
RG the X-mas Elf: Oh, how I've missed X-mas. Aren't you glad that it's back? And these authors have put us right on the fast track
To the fun that awaits us on Days Two and Three. Thinking of missing it? Oh, deary me.
The Smutketeers

CONTEST

lasts all the twelve days. It's easy to enter, let me count the ways. Each day that you post you are entered– you see? How easy we are…at least seasonally *wink* The prize is the icing on this X-mas cake. A

$200 gift card

is at stake (Amazon). So maybe you'd better just come back again, after fully enjoying Day One with our friends. :)

**

**Eden the non-rhyming pointer-outer of things with your daily reminder that you must comment on each of the 12 day's posts in order to be entered to win the GRAND PRIZE-a $200.00 Gift Card!-at the end!**

**