by edenbradley
on Feb 1st, 2013
leave a response
Introducing the Taskill Witches series-THE HARLOT by Saskia Walker
Hi folks! I'm excited to be here, hanging out with the Smutketeers! Over the next three days I'll be sharing info about my Taskill Witches series and giving away a signed copy of each title.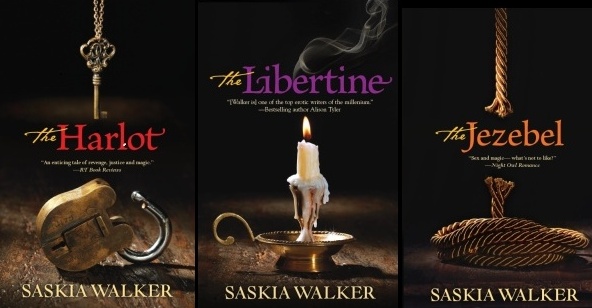 So what is this series about? These stories are erotic romances with a paranormal twist and they're set in Scotland during the time of the witch trials. Each novel tells the story of one Taskill sibling, Jessie, Lennox, and Maisie. These three Scots were split up as children when their mother was put to death for practising witchcraft. As adults they are hiding their craft in a time when the witch hunts are still going on — although the series is set towards the end of this turbulent period in British history, when change is imminent and the laws on "witchcraft" were about to be revoked.
What type of witches are they? We might call them Pagans, Wiccans or white witches. They consider themselves healers and gifted ones who practise ancient, magical ways. At the core of their craft is their sexuality and the belief in the vitality and power that can be sourced through physical congress and love making.
During their tales, Jessie, Lennox, and Maisie are trying to find one another again, but it's because of the lover they meet in their own story that they cross paths with their kin again.
The novels are being published back to back on the HQN line and today is the official publication for THE HARLOT. This one is set in the Lowlands of Scotland, opening in Dundee and moving into the East Neuk of Fife. To celebrate the publication I'm giving a signed print copy to one reader who comments today.
It is a Dark Era, one when a lusty lass will do what she must to survive. Even if it means bartering flesh for a palmful of coins.

Forced to watch her mother burned at the stake and separated from her siblings in the aftermath, Jessie Taskill is similarly gifted, ripe with a powerful magic that must stay hidden. Until one night when she's accused by a rival, and Jessie finds herself behind prison walls with a roguish priest unlike any man of the cloth she has known.

In reality, Gregor Ramsay is as far from holy as the devil himself, but his promise of freedom in return for her services may be her salvation. Locked into a dubious agreement, Jessie resents his plan to have her seduce and ruin his lifelong enemy. But toying with Gregor's lust for her is enjoyable, and she agrees to be his pawn while secretly intending to use him just as he is using her.

"Take one gorgeous rogue seeking vengeance and a desperate woman charged with witchcraft, toss them together with a healthy dose of lust and you've got an enticing tale of revenge, justice and magic." RT Book Reviews magazine
Find an excerpt and buy links here.
Leave a comment for your chance to win the signed copy! A winner will be chosen at midnight tonight PST, that's 8 am on Saturday 2nd in GMT. Don't forget to call back tomorrow to hear about THE LIBERTINE. :)
Saskia