by edenbradley
on Mar 1st, 2013
leave a response
Greetings! I'm very excited because it's publication day for THE LIBERTINE, book 2 in my Taskill Witches series. I adore Lennox Taskill, the hero of this book, and I hope you will too. He's a very bad boy and a notorious seducer of women. Don't you just love it when a man like that loses his heart, mind, and reason to a good woman? :)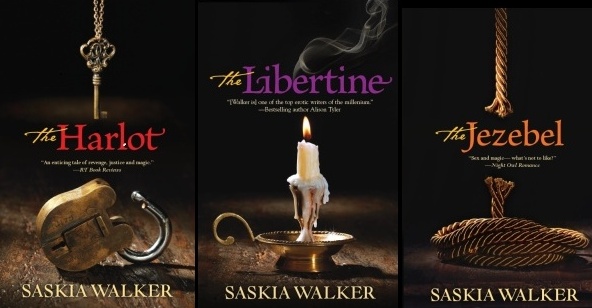 To celebrate I'm treating one reader to a $20/£15 Amazon gift token. Just leave us a comment for your chance to win. Read on for a teaser from THE LIBERTINE, and if you've read THE HARLOT, let me know!
His powers could save her from ruin, or guide her swiftly to it…
Lennox Taskill is a dissolute rogue, a powerful witch who some say even trades his enchantments for profit when it pleases him. His only loyalty is to his coven, his disdain for humanity sealed by the searing memory of his mother burning at the stake. So when the wife of a wealthy landlord comes seeking his help, the beguiling Chloris Keavey unwittingly presents Lennox with his greatest opportunity for distraction…and retribution.
By failing to produce an heir, Chloris faces a terrible threat: being turned out by her heartless husband. Now, she vows to get with child, even if it means surrendering her body—and soul—to Lennox's seductive magic. But with a witch hunt brewing, Lennox and Chloris are soon risking everything for their forbidden nights of ecstasy…and to protect the secret that could cost them their lives
"Walker deftly spins a captivating tale that will have readers holding their collective breath until the last page is turned." ~ Publisher's Weekly.
Here's a teaser:
Lennox took a lingering glance at her breasts, so voluptuous spilling from her loosed bodice, her peaked nipples a telltale sign of her state of readiness for lovemaking. How he would enjoy disrobing her completely, pleasuring her until she cried out for him. It would happen. He'd commenced her seduction in order to make Keavey suffer. Now that he saw the humility in her, and he felt the vital spark of her burgeoning arousal in response to him, his opinion on where to take matters was divided. He shrugged it off, disposing of the moment of doubt. He could have her, embolden her in carnal ways, bring her to an understanding of her perceived lack of womanhood, and still it would annoy Keavey.
In the candlelight he could see the pulse beating at the base of her throat and the swell of her breast rose and fell rapidly. Stimulating her had been easy enough, stepping away was going to be harder for him. She was ready, and the startled expression in her eyes convinced him that she was not familiar with being in the state of readiness for passion. How interesting it would be to lead her further along that path.
The pressing need to find release himself played its own part. The way she'd looked at him when he began to weave his spell turned him hard. Those eyes of her, so open, so honest. The way her lips parted when she found her senses stimulated. It made him want to enter her, to satisfy the desire that had been brought about in them both. He had not expected to be so readily stimulated, but the moment he entered her chamber he began thinking about how pleasant it might be to lie between her legs.
Advances had been made to his satisfaction.
Now to be sure she would meet him again.
He traced his fingers across her collarbone and down into the shadowy dip between her breasts. Hooking his finger over the bodice of her gown he tugged at it, freeing her breasts entirely. Her head pressed back into the pillows, her eyelids fluttering down as the soft globes of her breasts were fully revealed. Her body undulated against the bedcovers. She reached for him and her hands fisted on his shirt.
There was no doubt in his mind that she was ready to capitulate, to allow him to take what he wanted. However, that wasn't enough. He wanted her to need him so desperately that she pursued him and begged for her release at his hands. Only then would he accept that he had done his job well enough. Knowing that she had flaunted herself, offered—nay—given herself to him, she would hang her head in shame when Keavey asked her if it was the truth, if she had sullied herself at the hands of the local Witch Master.
It was time to test her a little. How far we she prepared to go?
He rose to his feet. "We have done well tonight, and now I must take my leave."
Her head lifted from the pillows, seeking him out. "But you…you have put me in such a state. I do not know how I will rest." Round eyed and delightfully innocent looking, she continued. "Is there no way you can alleviate the condition you have put me in?"
Lennox attempted to keep his manner serious. In truth it amused him immensely to think how outraged Tamhas Keavey would be if he knew the despised coven master was in his home, making his pretty cousin swoon after mere moments of preliminary love making. Lusty thoughts filled his mind and it took some effort to ignore the state of his cock when he stood upright. Her whispered pleas and protestations did not help to quell his state of readiness. "I cannot risk staying longer. I have not forgotten your honor is at stake, nor do I want to."
She sat back against the pillows and rested her hand against her forehead, her expression apparently startled to the point of dismay by his imminent departure.
Lennox observed the depth of her need. Unleashing her passions—when the time came—would be most pleasurable indeed…
~~~~~~~~
You can find another excerpt and buy links here!
Leave a comment for your chance to win the gift voucher. If you pick up the book, I hope you enjoy Lennox and Chloris and their story. :)
Have a great day!