by R.G. Alexander
on Jul 14th, 2014
leave a response
It's that time again. Palooza time! The Smutketeers have had a few of them before. The great Para-Palooza and the record breaking BDSM-A-Palooza, but this time we aren't restrained by sub genre. It is the SUMMER OF LOVE and everyone is welcome!
So sit back relax and get ready for your TBR list to explode with naughty romance goodness! Read through the blurbs and check out the author messages, then read and follow the contest directions below to enter to win one of 3 prize packages!! Let's begin :)
CRYSTAL JORDAN
Buy HERE
It's spring break, and a group of teachers from Half Moon Bay Middle School are planning to cut loose. History teacher Meg Phillips hadn't planned on being one of them—Vegas isn't really a town for a bookworm—but somehow she let her friend Anne talk her into it.
Though honestly, she'd rather indulge in some poolside reading than co-star in an R-rated edition of Teachers Gone Wild.
It took some major arm twisting for Finn Walsh to convince his fellow gym teacher, Anne, to do whatever it took to get Meg to Vegas. For over a year he's been looking for the chance to get to know her outside of work. He's drawn to her quiet beauty and intelligence—and the hint of fire beneath her understated exterior.
When he finally gets the opportunity to peel away those layers, the result is far more explosive than he ever fantasized. Now to convince her that the week isn't a wildly out-of-character mistake, but the start of something amazing…
Crystal's summer secret: My favorite part of summer is cooking out on the BBQ. Grilled steak and potatoes along with some ice cold watermelon. Yum.
Crystal's Giveaway: $25.00 Amazon gift card
DELILAH DEVLIN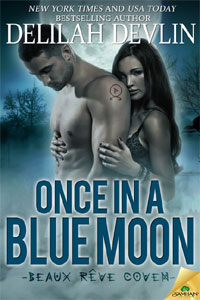 When testing an enemy for weaknesses, prepare for things to get hard.
Bryn Cavanaugh and her coven like that the community they live in is isolated thanks to a storm that destroyed the bridge between them and the outside world. Now the state wants the bridge rebuilt. When the construction crew checks into the inn, Bryn begins to suspect something about the crew's boss isn't quite…human.
Bridges are Ethan Thorne's thing—after all, he's a troll—so building a simple span over a remote canal in backwater Louisiana shouldn't be this much of a problem. When he follows the pretty little innkeeper to a midnight rendezvous, he discovers why his crew keeps running in to trouble. Bryn and her coven are casting spells in the moonlight.
As a troll, Ethan feels the sting of his low place in demon hierarchy. But finding an unprotected coven of witches in the middle of the bayou could lead to all sorts of adventure. And it's better to keep your enemies close…
Pre-order at Samhain: Once in a Blue Moon
Delilah's Giveaway: $25 Amazon gift card
ELENA AITKEN
When Kylie Wilson receives a mysterious invitation for an all expenses paid trip to a tropical, all inclusive resort, there's no doubt in her mind who it came from—Marcus Stone, the only man she's ever really loved. The same man who'd promised her forever and then promptly left town to pursue his dream without so much as a backward glance. Kylie owes it to herself to take a chance, and despite her conflicted feelings, she decides to risk her heart again and is soon jetting toward the island of Eden and the man she hopes will finally fill the void in her life. But when she arrives, all is not as she expected it to be. More to the point, he is not who she expected him to be. And on an island that is supposed to 'know exactly what you need', can Kylie open body, mind and more importantly—her heart to someone and something, she's never considered?
Elena's summer message: Finally, it's summer! If you need me I'll be sitting by the lake with a hot book and a cold drink!
Elena's Giveaway: Ebook bundle of Summer of Change, Falling Into Forever, Winter's Burn and Second Glances (Invitation to Eden) PLUS a $20 Starbucks E-Card
PG FORTE
An aspiring actress, an amnesiac heiress, a tarnished movie star…and the men who love them. Love like this could only happen in LA.
Waiting for the Big One: One girl, two guys and a quest for ultimate satisfaction.
Aspiring actress Gabby Brown refuses to consider her best friend, and personal trainer, Derek Novello for the role of soul mate fearing sex will ruin their beautiful friendship. When she meets Zach, she's convinced that he could be The One. Too bad Derek isn't willing to share—leaving Gabby forced to choose between two sexy co-stars.
An early morning earthquake provides Gabby with the impetus she needs to stop waiting for the stars to align and finally cast her leading man.
Love, from A to Z: When April's memory goes missing, not all her millions can buy it back.
Zach Harris was sure the girl he'd picked up in the bar last night said her name was Angel. Too bad she didn't tell him anything more about herself, because this morning, she can't remember anything—not even her name!
What poor-little-rich-girl April Valenzuela views as a problem, however, Zach sees as a once-in-a-lifetime opportunity; a chance for her to discover who she really is. Not her name or her address, but the important stuff. Her personality. Her likes and dislikes. Her preferences—in and out of bed.
Let Me Count the Ways: She's thinking fling, he's thinking forever.
Sexy former film star Claire Calhoun is used to having her pick of studly young men. Now that she and Derek have called it quits, however, the actress-turned-entrepreneur is feeling vulnerable. After one mojito too many at a party one night, she decides it would be fun to try something new—in this case, Mike Sherman, her staid accountant and long-time fan.
Claire has been Mike's fantasy since the first time he saw her bare it all for the camera. Now that she's in his bed he'll do whatever's necessary to keep her there. But he's not a stalker, right? He's just a devoted fan.
Buy HERE
PG's message: Hey everybody! Hope you're all having a sizzling summer of love. And thanks to the Smutketeers for hosting such a fabulous party! I spent my summer vacation in Bali this year where I was introduced to the joy of fresh ginger tea. Just add a couple of slices of fresh ginger to a cup of boiling water and let steep for a couple of minutes, then sweeten to taste. It doesn't seem to make sense–drinking hot, spicy tea to cool down–but it sure seems to work!
PG's giveaway: a digital copy of each of the three books that make up the trilogy. 
AVA CONWAY aka SUZANNE ROCK
Girl, Interrupted meets Beautiful Disaster in this thrilling and sexy debut novel, in which a college student learns her perfect life is a lie and finds new love where she least expects it—a mental institution.
Freaks, misfits and psychopaths. Those are the kinds of people found at Newton Heights Psychiatric Hospital, and high-society girl Lucy White's new home.
Freaks, misfits and Jayden McCray. Jayden has his own set of rules for life at Newton Heights, and in this contradictory guy Lucy finds a way to live with the events that left her cheating boyfriend and best friend dead and Lucy in the middle of the investigation into their demise.
The problem? Jayden makes her want things she's not supposed to have, blurring the lines between fantasy and reality and making Lucy feel more at home in Newton Heights than she ever did at home. But this isn't how her life is supposed to be.
Or is it?
Note: Hollow releases August 11th, but you can preorder it now. Normally $4.99, it is now only $1.99…but the sale will only last until the end of the summer. Get it while it's cheap! :)
Shelly MacIsaac has pretty much given up all hope. Hope that she'll lose weight, that she'll find any excitement in life, that there will ever be any man in her bed besides Barney, her cat.
When her friend Zoey suggests the wine girls come up with resolutions for the New Year, Shelly latches onto the one everyone expects her to choose—the tried-and-true commitment to go on a diet and get into shape. Deep inside, however, Shelly knows she needs to change a lot more than just her physical appearance.
After a year licking his wounds over a broken romance, Christian is through. He's been quietly lusting after Shelly at work, and he's not wasting any more time. There's something about her that makes him believe she's the one. Unfortunately, Shelly's kickboxing instructor, Lance—Christian's best friend—has set his sights on the sweet blonde as well.
Instead of pistols at dawn, the two friends come up with a deliciously erotic answer to their shared dilemma—if the shy beauty will accept their racy proposal.
Warning: There is a chance this story will encourage you to go on a diet and begin an intense exercise regime. After all, flavored body lube is low cal, right? And sex is a great way to burn calories.
Mari's giveaway: ebook bundle – the first four books in the Second Chances series.
"You have to go. I won't be able to control myself. I've wanted you so bad for so long and after I've been in the cage…I can't think straight." He gives a guttural groan and his fist clenches on my hip.
Primitive. Primal. His need speaks to me. I tighten my grip on his neck and rock up to kiss him. He takes over. His kiss is hard and demanding.
"Mine." His voice is raw, savage and for a moment I truly believe he may lose control.
He rules in the ring
Two years ago, Jake and Amanda were going hot and heavy. But when Jake wanted more, Amanda walked away. Jake immersed himself in mixed martial arts, living life on the edge. But that didn't dull the pain of Amanda's rejection-until a chance encounter throws them together.
A high-powered lawyer, Amanda was a no-strings-attached kind of girl. But two years after her breakup with Jake, she still hasn't found anyone who gets her heart pumping the way he did. And then he shows up in her boardroom, hot as sin and needing help…
But can he rule her heart?
Jake is darker, sexier, and impossible to resist. As their chemistry builds, Amanda's not sure if she can stay in control, or if she's finally willing to let him claim her body and soul.
BUY HERE
Bitten By Vengeance is the climactic finale to the Hadley Werewolves series.
Cursed witch Nevena wants nothing more than to destroy the dark evil that has escaped her coven's compound. She's outgunned and on her own–until a band of werewolves from Hadley join in the fight.
Drew is a cop bent on protecting his pack. Hadley has been attacked again, leaving him bitter and determined to do what's right. He will help the witches bring down what drove them to Hadley, but he refuses to get close to them…Until the curse on Nevena sucks him in.
Drew discovers what its like to love when Nevena traps both his heart and his soul. But he may lose them both in order to bring down the dark evil determined to destroy everything in its path.
Shawntelle's message: Hope you're having a cool summer full of hot reads!
Shawntelle's giveaway: ebook copy of Bitten By Vengeance
CASSANDRA CARR
Catrina Carter is in over her head. Way over her head. She's in debt and, short of bankruptcy, which wouldn't happen fast enough to pay the creditors nipping at her heels, Catrina has few choices. Eviction is coming any day, and even though she traded in her great car for a "more affordable" model, it's about to be repossessed too. Catrina goes to Debt Management Associates, or DMA, for help.
The cost for DMA's help is something she never thought she could pay, but out of options, Catrina agrees to serve a man who pays her debt in full, and begins training in how to please him. Jared. Her new benefactor. He is tasked with helping Catrina get her life back on track, in addition to taking his pleasure with her and ordering her to oblige friends, colleagues, and even total strangers sexually on his whim.
When Catrina leaves the DMA program after her one year term of service, will she be able to keep the lessons Jared literally spanked into her topmost in her mind, or will old habits rear their designer heads?
NOTE: The Payment Series is a serial. They are best read in order and are not really standalone stories.
WARNING: This series contains material some readers might find objectionable. If dark erotica themes bother you, please do not purchase this series.
BUY HERE
Cassandra's message: This is a GREAT drink for a hot summer day! It's like a strawberry shortcake smoothie/milkshake combo.
http://allrecipes.com/Recipe/Strawberry-Shortcake-Drink/Detail.aspx
Cassandra's giveaway: Choice of my ebook backlist.
SHAYLA BLACK
Naughty Little Secret by Shayla Black (writing as Shelley Bradley)
Blurb:  After divorcing her never-home husband, Lauren Southall plucked up her courage, dusted off her power suits, and returned to corporate life. Two years later, there's just one six-foot three, testosterone-packed problem: her ex-husband's good friend and her current boss, Noah Reeves. Lauren aches for him. But she can't possibly measure up to the silicone-packed professional cheerleaders he dates. So she hides her desire behind a professional persona and fantasizes.
For ten years, Noah Reeves has waited to make Lauren his. Once her divorce was final, he tracked down and hired the brilliant, dedicated woman. But when he's with her, it isn't spreadsheets and profit margins on his brain. Problem is, she's never seen him as anything but her ex-husband's pal. Now that she's finally a free woman and with him 40+ hours a week, well… he'd love to persuade her to throw in her nights and weekends. So Noah decides to romance her by day. By night, he becomes a mysterious stranger devoted only to her pleasure…and discovers she's hiding a naughty little secret of her own.
Go HERE
Shayla's message: Happy Summer Smutketeers and Friends!!! I hope you are enjoying hot summer weather wherever you are! I certainly am! For a great summer read that's perfect for the beach, my Naughty Little Secret re-released this week with a brand new cover. Enjoy!!
Shayla's giveaway: Signed print copy of Forever Wicked
DANA MARIE BELL
All For You
The Nephilim Book 1
Genre: Paranormal Romance
Length: Novel
Format: .epub, .pdf
Someone—or something—is stalking Abby Marcheson. Luckily, she has her brother's hunky friend Seth to keep her safe. Abby falls easily into her protected life, with Seth constantly by her side, and when he asks her out on a date, she's eager to accept.
But Seth is much more than he seems. A Nephilim, a son of Angels with wings of his own, Seth is bound to spend his life hunting the Shemyaza, evil descendants of Angels. He's kept his wings hidden from Abby in order not to frighten her, but as her stalker becomes bolder, Seth begins to suspect that a Shem has Abby in its sights…
As their flirtation escalates into full-blown passion, Seth is torn. Should he reveal his true nature to the beautiful, trusting Abby? Will she accept him, wings and all, or will Abby flee her guardian angel and fall prey to the sinister force that wishes her harm?
BUY HERE
Dana's message: My favorite summer cocktail: A frozen mudslide! Coffee, chocolate AND alcohol?
Where's my blender?
1.5 oz Vodka
1.5 oz Kahlua
1.5 oz Baileys Irish Cream
1 cup crushed ice
(NOTE: 1.5 ounces is about 2 jiggers, if you're using those)
Garnish: Chocolate syrup (optional)
Can add some ice cream in place of some of the ice. I like either chocolate or coffee flavored.
Add all the ingredients to a blender and blend until smooth, then pour into a glass. Drizzle with chocolate; add whipped cream if desired.
Dana's giveaway: Both books in the Nephilim series, All For You and The Fire Within, in either .epub or .pdf!
SIDNEY BRISTOL
So Inked, Book 3
A woman who loves too much…
When Autumn's best friend proposes a pretend marriage, the chance to make all the kisses she's imagined real is too much for her to pass up. She seduces him with her body and enjoys pushing his boundaries and fulfilling their sexual fantasies—but her heart isn't supposed to be part of the bargain.
A man about to take his last breath…
Sammi has just weeks left to live out his dying wish—the white picket fence, the house and the wife. If Autumn is the last woman he gets to taste he'll die a lucky man. Her body, her heart—everything about her calls to him. But love isn't supposed to be in the plans.
In the crucible of passion, these two lovers will find out what they're really made from, and just how long I do lasts.
Purchase from: Ellora's Cave | Amazon | Barnes & Noble | All Romance eBooks
Sidney's giveaway: $10 Amazon gift card
KELLY JAMIESON
Buy HERE
Sometimes the darkest nights produce the brightest stars.
Rule of Three, Book 3
When the pregnancy test turns positive, Kassidy, Dag and Chris are thrilled they're going to be parents at last. Their polyamorous relationship has blossomed, and there's more than enough love to go around for their long-awaited little "Belly Bean".
Then reality sets in. Dag grew up without a father. Does that mean he's too damaged to be a good role model? Kassidy is at a critical point in her career, working long hours on a high-profile project. And Chris gets a disappointing—but not exactly unexpected—reaction when he contacts his parents with the news.
As worry nibbles at the edges of their happiness, fate is poised to tear it to shreds, leaving a loving foundation three years in the making cracking under the weight of grief and guilt. And the trio in the fight of their lives to repair their unconventional bonds.
Product Warnings
Our sexy threesome is back for their happy ending. Keep extra tissues on hand for tears, a fan on standby for hot sex, and a post-it note to remind you to take a deep breath. It's time to find out if the juice is really worth the squeeze.
Kelly's message: Well, I'd like to say summer is my favorite time for reading, but that's not true because I read ALL the time. So I've never really gotten that whole "beach read" concept. Yes, I love reading on the beach, or by the pool…or on my deck, or on my couch in front of the fireplace or in the bathtub or in bed…pretty much anywhere! But if you're looking for hot summer reads, this Love-A-Plaooza is the place to find them!
Kelly's giveaway: digital copy of Rule of Three, Book 1
GILLIAN ARCHER
Buy HERE
Book two of the Pleasure Code series.
After the loss of her Dom and first love two years ago, the time has come for Kyla to again allow herself the pleasure of giving up control. She isn't looking for anything serious yet, just the comforting embrace of rope and a firm hand on her body for the night.
Rope-top Sawyer is extremely skilled and he doesn't do relationships—but he's fascinated by the gymnastics instructor who approaches him at a kink con. By the end of the day he's vowed to help her feel submissive pleasure again, and to introduce her to a few Doms she can choose from.
But as Sawyer breaks down Kyla's emotional defenses, his barriers also come down. Soon he can't imagine giving Kyla over to any other Dom—and Kyla can't imagine being with anyone else. When their feelings are put to the ultimate test, they'll learn that while taking risks in the bedroom is easy, taking risks in love is terrifying.
Gillian's message: I just discovered a great summertime activity. Ice blocking!
What you need:
1-2 blocks of ice per person
1 hand towel
1 grassy hill
What you do:
Climb to the top of a hill. Place the towel over the block of ice. Sit down on the covered ice block and let physics do the work for you. It's like sledding but in summer. We found success in placing two blocks of ice side by side and sliding down on both. Warning: Mixing alcohol & ice blocking is NOT recommended. Hilarity might ensue but so will 'grass rash' or something worse!
Gillian's giveaway: Since Up In Knots is book two of my Pleasure Code series, I'll be giving away a copy of book one, Wicked Weekend!
SHELLI STEVENS
Buy HERE
All the military training in the world won't help him knock down her walls.
Years ago a terrifying attack left Kenzie McLaughlin trusting only a few men in her insular life on Whidbey Island—her brothers and her father. But when a sexy Navy guy who waltzes into the family pub doesn't hesitate to makes his interest known, no amount of mental red flags are enough to keep her from being tempted to dip a toe back into the dating pool.
Twice burned in the past, Brett Craven has sworn off serious relationships, at least while he's still in the Navy. A gorgeous redhead with a fiery wit and wariness of men, though, has blown his well-reasoned strategy out of the water.
There's no denying the attraction between the two, but Kenzie teeters on a tightrope anchored on one end by hope, the other by caution.
Because if she lets her guard down long enough to fall for Brett, it could leave her vulnerable to the one man who's been left free to prey upon her fear.
Shelli's message: Hello all! I hope you're soaking up the sun this summer, and the only melting you're doing is because you're reading hot books! If you like sexy Scots, I've got them for you!
Shelli's giveaway: Any ebook from my backlist and an e-arc of Highland Fling as soon as its available!
TIFFANY REISZ
ERIN NICHOLAS
For more info-go HERE
Genius scientist Mason Riley can cure world hunger, impress the
media and piss off the Vice President of the United States all before
breakfast. But he's not sure he can get through his high school class
reunion.
Then he meets the new girl in town.
Adrianne Scott loves Sapphire Falls. The sleepy little town has been the
perfect place to escape her fast-paced, high stress lifestyle. Her only
plans now include opening her candy shop and living a quiet, drama-free
life.
Until Mason Riley bids four hundred dollars just to dance with her.
Mason sure doesn't look—or kiss—like a genius scientist geek. In fact, he
makes Adrianne's heart pound like nothing she's ever experienced. Passion
like this with a guy who travels the world and parties at the White House
should probably be a red flag for a girl who wants a simple boring life.
Good thing no one falls in love in a weekend.
*And look for the other books in the series. Getting Worked Up and Getting Dirty!
Erin's message: One of my favorite summer memories was the week of the big annual festival
in the little town where my grandparents lived when I was kid. The
festival meant rides and cotton candy and bright lights and staying out
late. I loved everything about it. We now live in a town where the annual
county fair is held and I still love every bit of it. It wouldn't be
summer without a Ferris wheel in my opinion!
So when I decided to write a small town summer series, I automatically
included a town festival. That's just *summer* to me! And the festival in
Sapphire Falls has it all– rides, dunk tank, kissing booth, funnel cakes,
petting zoo… the whole nine yards!
So you're cordially invited to join us in Sapphire Falls for lots of
summer fun! Though, I will say, this festival gets even hotter than most
I've been to :)
Erin's giveaway: Set of all three Sapphire Falls book: Getting Out of Hand, Getting Worked
Up and Getting Dirty in winner's choice of e-format and some swag :D
LAUREN DANE
Book 1 in the NA rock star series, Lost in Oblivion
Love definitely wasn't on the setlist.
Opening for their idols on their first tour, Oblivion is living the dream. Mostly. Frustrated at being shoved out of his mediator role by their new manager, Deacon McCoy loses himself in brutal workouts. He only comes up for air long enough to refuel–and to tease the deliciously cute chef who makes him crave a lot more than what she's offering on her serving plate.
As the child of roadie parents, Harper Pruitt has heard every pickup line twice. To her, musicians are one step above the scraps on her cutting board. All she wants is to get enough experience to run her own catering company, but Deacon and his bottomless stomach are too tempting to resist. He's far from the typical rock star and before long, she finds herself experimenting with him, inside and out of the kitchen.
Apron – and panties – optional.
When Harper sees that Deacon's dream band with his best friends may be turning into a nightmare, she can't walk away. Deacon's so much more than just a peacemaker and the man behind the bass. But she has her own dreams to chase…even if she's starting to think what she's building with him might be the biggest one of all.
You met Deacon McCoy in SEDUCED, now you can watch just how far a big man can fall.
Cari's message: Hi everyone! Happy summer! If you're looking for a summery treat, may I recommend a serving of Harper from Rocked's dried strawberries? They're a yummy, fun way to get your fruits in! Harper's a chef and a foodie and if you read Rocked, I bet you'll get hungry more than once…and in more than one way. ;) Have a great time beating the heat and thanks for stopping by!
Cari's giveaway: $10.00 Amazon/BN e-gift card and backlist ebook of mine, winner's choice
JAYNE RYLON
Jayne's message: Hey everyone, Jayne here, I'm having a fantastic summer steaming up my office writing sexy new stories.  I hope you're all staying HOT!
PRE-Order for August!
From New York Times and USA Today bestselling author Lauren Hawkeye comes the exhilarating conclusion to Mal, Adele and Dorian's story—the improbable young romance that began in Three Little Words…
Adele Cavanaugh wasn't looking for a man at all… and she found two.
Happy for the first time ever, Adele is finally moving past the tragedy that tore her world apart. But everything changes… and Adele knows that only too well. Just as soon as everything goes right, it falls to pieces yet again.
Dorian's band gets an opportunity that will take him away from her and Mal.
Adele's tormentors reappear.
And Malachi's ex-girlfriend Emma wants him back.
There are too many hearts on the line… and all three question if they can make it in a world set up to run two by two.
Please note: this story also includes a sexy new tattoo (his), an abduction fantasy (theirs), a roller derby music video and, of course, Humper the cat.
Lauren's message: My perfect summer day involves lying on a lounger at the side of the ocean, ereader in one hand, frosty margarita in the other… mostly naked cabana boy fanning me from nearby. I hope your summer is just this awesome!
Happy reading!
Lauren's giveaway: $50 Amazon gift card
HELENKAY DIMON
Jarrett is a man who prefers darkness to light. He deals in the only truly valuable currency—information—and his supper club caters to an exclusive clientele. It was an uncharacteristic moment of weakness when he let a woman into his life. But it's not luck that the criminal charges disappeared . . . as did the evidence.
When Becca returns to the club seeking his help, Jarrett doesn't want to hear her story. But he does want her body, and demands that she give it to him. He'll keep her safe—for now—but it'll be in his bed and on his terms, until he says they're done.
SAMI LEE
Samhain           Amazon          Barnes & Noble          Kobo
Burning Up by Sami Lee
Pam Spencer is sick of looking for love in all the wrong places. Sure, she wants a solid relationship, but if steamy casual sex is on offer, who is she to turn it down? Especially when the offer comes from not one, but two smokin' hot firefighters.
Compliance by Lexxie Couper
Bethany's got a thing for two hot guys: a nerd and a jock. She's also got a fantasy that will be mutually pleasurable for them all. She isn't expecting complete and utter sexual domination though…nor losing her heart to one of them.
Party Of Three by Jess Dee
Spencer Allen's quest for true love just hit a brick wall—his best mate, Levi Barret. Their mutual lust for the same woman, Chelsea Holden, could spell the end of their friendship…or the beginning of a whole new relationship.
Pass the Parcel by Rhian Cahill
For one night Kitty will be everything Ethan and Finn want. But living out her wildest fantasies was never meant to be this good. And when the sun comes up she'll discover she's given them more than her body. She'd given them her heart.
DAMON SUEDE
Bad Idea: Some mistakes are worth making.
Reclusive comic book artist Trip Spector spends his life doodling super-square, straitlaced superheroes, hiding from his fans, and crushing on his unattainable boss until he meets the dork of his dreams. Silas Goolsby is a rowdy FX makeup creator with a loveless love life and a secret streak of geek who yearns for unlikely rescues and a truly creative partnership.
Against their better judgment, they fall victim to chemistry, and what starts as infatuation quickly grows tender and terrifying. With Silas's help, Trip gambles his heart and his art on a rotten plan: sketching out Scratch, a "very graphic novel" that will either make his name or wreck his career. But even a smash can't save their world if Trip retreats into his mild-mannered rut, leaving Silas to grapple with betrayal and emotions he can't escape.
What will it take for this dynamic duo to discover that heroes never play it safe?
Damon's message: Hope y'all are having a groovy Smutketeer summer, reading hard and living slick. I'm doing my annual writing binge at the moment, sleeping bizarre hours and eating gummi bears by the metric ton. I do think I shaved once last week, but it's getting freaky up in this joint while I finish the new novel. LOL
Damon's giveaway: Any one of my audiobooks (Bad Idea, Horn Gate, or Hot Head) along with the ebook copy of that title
InkHeart Authors Steamy & Sizzling and Sexy & Sweet Boxed Sets
When power play becomes more than just a game…
BDSM. Submission. Spanking…These are the things Skye has always craved, the desires she has never allowed herself to explore. Until now. She thought she was looking for a single experience, something to purge these strange yearnings from her system. Instead she finds a man whose absolute authority and stunning good looks leave her breathless, willing to do anything he asks of her. But only for one night…
Adam has other ideas. Skye could be the perfect submissive once he's done training her—for someone else. For him, that's always the way it's been. But Skye is different. Enticing. Intoxicating. Irresistible. Soon all he can think of is breaking Skye—and keeping her for himself.
When the submissive he played on New Year's Eve turns out to be his tempting tattoo artist…Finn knows Rosie may soon have him on his knees.
Aussie Dom and ultimate 'player' Finn Carter is in New Orleans to spend New Year's Eve with his friend Mick at The Bastille, the city's infamous BDSM club. A night of play with a beautiful sub leaves him wanting more…more than he's ever imagined with any other woman. When the tattoo artist he has an appointment with turns out to be her more than his flesh may be marked forever.
Roisin 'Rosie' Gallagher's past and working as a tattoo artist has taught her to be tough. Even in her scenes as a submissive she's strong, always fighting to give herself over. Tattooing Finn may give her a thrill at being the one in command now, but as they explore the kink dynamic in private the control ceases to matter, and all that's left is pure pleasure…and the possibility of something that could last as long as the ink on his skin.
*Originally published as part of the Midnight Ink Anthology
Eden's message: It's summer, and that means it's time to lounge! This is my favorite form of summertime lounging: Start with one cool, sparkling pool, mix in a frosty, fruity drink, add a good book (this summer it's going to be RG's super-sexy The Billionaire Bachelors series!), stir with a hot, shirtless cabana boy to rub in the sunscreen and you have my perfect summer day! Hope you find yours!
Eden's giveaway: A $10.00 Amazon Gift Card *plus* e-copies of winner's choice of any *TWO* of the following books: DANGEROUSLY INKED, OBSESSION, BREAKING SKYE, TEMPT ME TWICE, SUMMER SOLSTICE, THE SEEKING KISS.
ROBIN L ROTHAM
What's better than one hot alien at your service? Two hot aliens in your bed.
After four months of orbiting Earth in a spaceship bursting with sex-starved aliens, nurse Shelley Bonham will do just about anything to get off. The ship, that is.
Not that the aliens aren't hot enough to put her hormones on red alert. In fact, the more time she spends with the Garathani leader Cecine and his personal guard Hastion, the more she wants them. Knowing what Cecine and Hastion are doing to each other when nobody's looking only makes it harder to keep her hands to herself.
But she's already been betrayed by one alien–her dead douchebag of a husband. Can she trust her future–and her children–to another?
Warning: Contains the usual Robin L. Rotham smorgasbord of m/m/f menage and D/s elements, plus a shipload of alien alphas in outer space.
Book 3 in the Aliens Overnight series.
Buy HERE
Paramedic Bart Rigger finally has the life he wants rather than the one his father dictated, thanks to hot new fiancée Rhonda Giannetti. But a whirlwind trip to New Orleans puts it all at risk when he's forced to confront unresolved feelings for his first love, tattoo artist Elijah Bell.
Originally published as part of the Midnight Ink anthology.
Robin's giveaway: $10 Amazon gift card
R.G. ALEXANDER
RG's message: I went crazy this summer and planned to have a release out every week of July…I blame the heat, but you can benefit from my temporary insanity. Enjoy!
RG's giveaway: $20 Amazon gift card
***Contest***
What you need to do:
#1 Share the Palooza on twitter and FB and anywhere else you can think of, tell a friend, and post the link here.
#2 Tell us your favorite thing about summer.
Yes, it's that easy. :)
We're taking all the prizes offered by our visiting authors (and they are some pretty good prizes) and combining them into 3 large packages of awesome! Our 3 Winners will be chosen on the 19th.
Here are the three fabulous Prize Packs!
~PRIZE PACKAGE #1:
-Delilah Devlin's Giveaway: $25 Amazon gift card
-Lisa Renee Jones' giveaway $10 Amazon Giftcard, a copy of Master Undone, an Inside Out Tote
-Lauren Hawkeye's giveaway: $50 Amazon gift card
-Eden Bradley's giveaway: A $10.00 Amazon Gift Card *plus* e-copies of winner's choice of any *TWO* of the following books: DANGEROUSLY INKED, OBSESSION, BREAKING SKYE, TEMPT ME TWICE, SUMMER SOLSTICE, THE SEEKING KISS.
-Tiffany Reisz's giveaway: 1 signed print copy of The Saint
-Jayne Rylon's giveaway: an autographed copy of her collector guide
-Dakota Cassidy's giveaway: a digital copy of American Werewolf in Hoboken
-PG Forte's giveaway: a digital copy of each of the three books that make up the LA Love lessons trilogy. 
-Lauren Dane's giveaway: Winner's choice of epub or mass market paperback ARC of The Best Kind of Trouble
-Gillian Archer's giveaway: a copy of Wicked Weekend
-Shawntelle Madison's giveaway: ebook copy of Bitten By Vengeance
-Kelly Jamieson's giveaway: digital copy of Rule of Three, Book 1
~ PRIZE PACKAGE #2:
-Crystal Jordan's Giveaway: $25.00 Amazon gift card
-Lisa Renee Joness giveaway $10 Amazon Giftcard, a copy of Master Undone, an Inside Out Tote
-RG Alexanders' giveaway: $20 Amazon gift card
-Kaira Rouda's giveaway:$10 Amazon gift card
-Cari Quinn's giveaway: $10.00 Amazon/BN e-gift card and backlist ebook of mine, winner's choice
-Rhian Cahill's giveaway: $5 gift card and digital copy of Truth or Dare
-Jayne Rylon's giveaway: an autographed copy of her collector guide
-Shayla Black's giveaway: Signed print copy of Forever Wicked
–Ann Mayburn's giveaway: Signed Print Copy of Exquisite Trouble (For US and Canada only). My 2014 Book Boyfriends Collector's Buttons
-Damon Suede's giveaway: Any one of his audiobooks (Bad Idea, Horn Gate, or Hot Head) along with the ebook copy of that title
-Mari Carr's giveaway: ebook bundle – the first four books in the Second Chances series.
-Dana Marie Bell's giveaway: Both books in the Nephilim series, All For You and The Fire Within, in either .epub or .pdf!
-HelenKay Dimon's giveaway: a digital copy of my Cosmo Red-Hot Read, EVERYTHING YOU NEED TO KNOW
-Jennifer Kacey's giveaway: any e-book from her backlist. Winners Choice!
-Sami Lee's giveaway: an e-copy of Unforgettable Summer
-Suzanne Rock/Ava Conway 's giveaway: ecopy of Hydrotherapy
~ PRIZE PACKAGE #3:
-Renee Vincent's giveaway: $25 Amazon Gift Card
-Lisa Renee Jones' giveaway $10 Amazon Giftcard, a copy of Master Undone, an Inside Out Tote
-Sidney Bristol's giveaway: $10 Amazon gift card
–Robin L Rotham's giveaway: $10 Amazon gift card
-Cathryn Fox's giveaway: ecopy of Yours to Take and $10 Amazon Gift Card
-Carly Phillips' giveaway: $10 Amazon Gift Card
-Jayne Rylon's giveaway: an autographed copy of her collector guide
-Lexxie Couper's giveaway: $5 Amazon gift card and the first ebook in the Heart of Fame series
-Elena Aitken's Giveaway: Ebook bundle of Summer of Change, Falling Into Forever, Winter's Burn and Second Glances (Invitation to Eden) PLUS a $20 Starbucks E-Card
-Shelli Stevens' giveaway: Any ebook from her backlist and an e-arc of Highland Fling as soon as its available
-Brenna Zinn's giveaway: An Iron Rods T-shirt and an e-copy of Touched by Midas
-Sarah Castille's giveaway: Ebook Bundle: Yield to Me, Barely Undercover, Against the Ropes
-Erin Nicholas' giveaway: Set of all three Sapphire Falls book: Getting Out of Hand, Getting Worked Up and Getting Dirty in winner's choice of e-format and some swag
-Jess Dee's giveaway: Winner's choice from her backlist (e-book)
-TJ Michaels' giveaway: a copy of Mastered for Nook or Kindle
-Cassandra Carr's giveaway: Choice of 1 book from her ebook backlist.
~~~~~~~~~~~~~~~~~~~~~
Until then!
ALL FOR SMUT AND SMUT FOR ALL!