by edenbradley
on Jun 24th, 2009
17 Comments »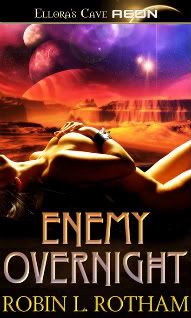 The Smutketeers have the great fortune of interviewing the fabulous Robin L. Rotham, best-selling author of ALIEN OVERNIGHT! The mysterious and elusive Robin has agreed to come out of hiding long enough for The Smutketeers to have our way with her, and we are titillated and honored.
Robin's newest release, ENEMY OVERNIGHT is the long-awaited sequel to ALIEN OVERNIGHT, available now from Ellora's Cave. And if you want a taste of just how exciting this book is, here's the blurb:
The last time Jasmine King was aboard the Heptoral, she escaped by the skin of her teeth. This time she won't be so lucky. Trapped on a ship full of sex-starved aliens and out of the pheromone blocker that holds off her physical transition, Jasmine makes a desperate escape attempt…and fails. The consequences are disastrous—she's mated to three horny warriors, and one has a huge bone to pick with her. What's a girl to do but fall in love?
The last time Shauss saw Jasmine, the deceitful little Terran stole his bondmate from under his nose. This time he won't be so trusting. Finally master of his own bond, Shauss names secondary mates Jasmine feels safe with…and lives to regret it. One can't stop puking long enough to claim her. The other challenges Shauss' supremacy by digging into his psyche at every turn. What's a Dom to do but fuck them all into submission?
He sets out to do just that, but his domination takes a brutal turn when he discovers Jasmine's deadly secret…

Reader advisory: Contains a female/female sex scene.


~Robin, since this is your first time with the Smutketeers we're trying to calm down enough to handle you as gently as possible. Okay, WTF, let's just get right down to business. Alien sex-really? Do tell!
Those poor aliens didn't know what they were getting themselves into when they landed in my brain, LOL! First they had to get past the squick factor of anal and now I'm making them do each other. What's the galaxy coming to?!

~Oh my! (*fanning ourselves* Or rather, having our loin-clothed houseboys do it). So-the word is that fans have been dying for this sequel. We won't hold it against you, especially now that it's here. But we will consider you a tease! What have you been working on in the interim?
I've had three releases since AO came out, and they're all very different from each other. I originally wrote SENIORELLA for the Romance Divas E-book Challenge to help promote AO, and it was so well-received, I turned around and sold it to EC. CARNAL HARVEST was just a little farm wife's fantasy that wouldn't go away, so I finally got it down on paper. It turned out to be so much more than a fantasy! (Don't tell him I told you, but there's a lot of my relationship with Mr. Robin in that story.) And then there was BIG TEMPTATION, which was actually the first book I ever wrote. I started it in the summer of 2005 and finished the shitty first draft in less than seven weeks. Didn't have the courage to really look at it again until ALIEN OVERNIGHT was well into the revision stage. BIG is and probably always will be the book of my heart. I still do a double-take and think of Barrett every time I see a white Suburban.

~Was the incredible success of ALIEN OVERNIGHT a surprise to you, especially as your first published story? That must have made your head spin!
Oh baby, shocked doesn't even begin to cover it. I'm still in shock. When readers emailed me (and still email me) begging for the sequel, I was both thrilled and frightened. There's this level of expectation that I didn't have to worry about when I wrote AO – that was just a lark, something fun to do. Knowing that so many readers were clamoring for EO made it much harder to write because I don't want to let anyone down. But it's inevitable that I'll let some readers down because I had conflicting requests, LOL! Some wanted me to stay away from m/m and others wanted Shauss and Kellen to get it on. Some wanted Shauss and Kellen and Monica back together permanently and others wanted Shauss and Jasmine. Nobody asked for any f/f, but it found its way in there and I just couldn't take it out because it felt inevitable—the challenge was issued and had to be answered. I just had to write the story as it wanted to be written.
~Tell us what your writing process is like. Do you have any particular rituals?
If I have one ritual, it's making myself a nice big cup of cinnamon pecan coffee with half 'n' half…and then letting it sit there and get ice-cold while I write. I know it's been a decent writing day when I've had to nuke my coffee at least four times. Generally I sit in the living room, in my recliner with my laptop, and try to ignore whatever is going on around me. I work best in complete quiet, but I can put on noise-cancelling headphones if I have to and make the world go away. I listen to music, but usually only to get myself in the mood. However, when I'm deep into really tense or emotional scenes, I'll let classical music or a single mood piece play in a loop in the background. For instance, with EO, I listened to VAST's Don't Take Your Love Away and Gary Jules' Mad World hundreds of times each. Oh, and I developed an EO soundtrack that I listened to in the car all the time to help keep me in the mood.
~What's up next for you? New books releases, appearances, deviant sexual experiences?
Well, obviously ENEMY OVERNIGHT releases today, and then after that, it's anyone's guess. I have at least four sequels that need to be written and hopefully they'll come a little easier than EO, which I didn't really set up well for its sequels. As for personal appearances, on Wednesday, July 15, I'll be signing copies of BIG TEMPTATION at the Readers for Life Literacy Autographing as part of the RWA national convention at the Marriott Wardman Park Hotel in Washington DC. Deviant sexual experiences are still TBD. Any of you care to help me out with that…?
~Don't tempt us, darling Robin. The Smutketeers are always glad to lend a helping hand! So to speak…
Okay, on to a few either/or questions:
~Voyeur or exhibitionist? Both
~Chocolate or vanilla? Chocolate, baby – the darker the better!
~Kinky or vanilla? If you have to ask, you haven't read my books.
~Dirty farmer or dominant alien? I've had plenty of dirty farmer so I think Mr. Robin would forgive me if I wanted to try dominant alien.
~Backpacking in Nepal or lounging on the beach in Tahiti? Hmm, let's see, hell or heaven…? TAHITI, of course!
~Mac-n-cheese or filet mignon? The filet. Nothing beats a tender piece of hand-beaten meat.
~Summer or Winter? After living ten years in Vail, SUMMER!
~Rich or famous? Rich, no contest.
~Handcuffs or silk scarves? Handcuffs—and a little police brutality to go with them.
~Any last words now that you've been stripped of your Smutketeer interview virginity?
Well, Mr. Robin is giving me the look, so it must be time to do some more research. *grin* Thank you for thinking I'm interesting enough to interview, my sexy Smutketeers. I hope you all enjoy ENEMY OVERNIGHT! And I'll be picking a random winner or two from whoever posts today and giving them signed copies of Alien Overnight and Big!
Thanks so much for being here-was it good for you? We hope so-the Smutketeers never want to disappoint.
Where you girls are concerned, it's always good for me.
All for smut, and smut for all!
And while we're talking smut (of course, when are we not talking smut?), our own Lilli Feisty has done a fabulous video interview over on the Dane & Hart blog. You must see!
http://www.danehart.com/2009/06/25/dane-hart-discuss-lilli-feisty/