by edenbradley
on Aug 10th, 2010
15 Comments »
I'm so excited to announce that my latest Samhain book, SUMMER SOLSTICE, has been released and is available now at MBaM, Amazon and other online outlets!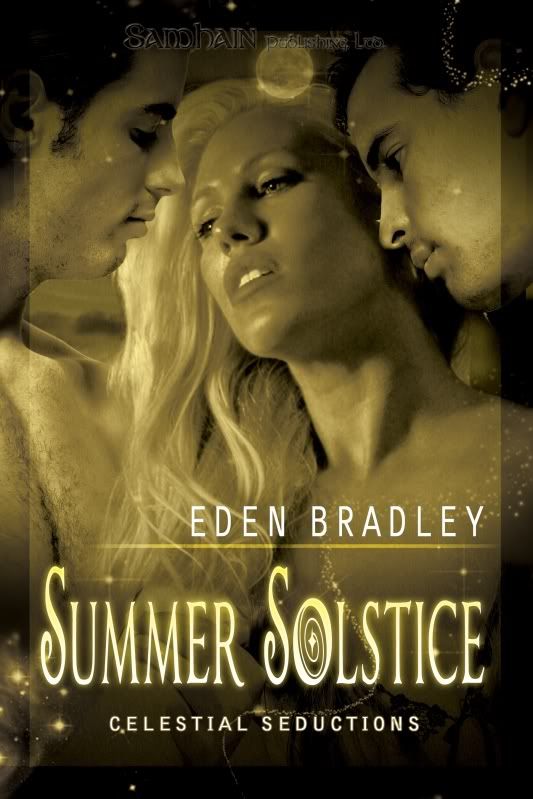 SUMMER SOLSTICE
Book Three in the Celestial Seductions Series
This summer is going to be twice as hot…
The view from Leigh's front porch was never this nice. In fact, her hunky new neighbor is sparking all kinds of naughty ideas about how to beat the heat. Much to her delight, the feeling is mutual—as long as they keep things light. Her divorce left her a little lonely, but far from needy.
Jared doesn't plan to spend much time in his new place before jetting off on his next photojournalism assignment. Leigh's classic, California blonde looks are any man's fantasy. A little flirting, a little playful, neighborly car washing, and it isn't long until their summer fling is in full swing.
Neither can imagine the sex being any hotter—until Jared's sometime roommate and lover, Matteo, comes to town. In the arms of two men, Leigh brings her ultimate fantasy into scorching reality.
Jared revels in the chance to command his two lovers' every move, but when he gets the call for his next overseas gig, he's not so sure he's ready for the fireworks to end. And even as Leigh gives her two lovers the most precious gift—their freedom—she wonders how she'll find the strength to say goodbye.
Warning: Hot M/M/F ménage, sex in public places (sort of—read it and you'll see!), every possible orifice filled (some simultaneously), a big, sexy, bossy alpha, an equally hot beta and a little spanking for good measure. Because let's face it, who doesn't need a little spanking now and then?
***
EXCERPT-Warning-X-rated!
"Jared…"
"What is it, darlin'?"
"Undress me, please."
A small chuckle from him, then he pulled her dress over her head in one smooth motion. Matteo reached out and caressed one taut nipple with his fingertip.
"Beautiful breasts, Leigh. Damn perfect, really. I could write a song about them."
She laughed, feeling freer than she ever had in her life, somehow. Powerful, desired by these two men.
"It's true," Matteo insisted, leaning forward and laying a soft kiss where his fingertip had been.
"Oh…"
Pleasure surged through her, her breasts aching, her lacy panties soaked. She was vaguely aware of Jared undressing behind her, but Matteo's touch, his mouth, were making her crazy. His fingers were still stroking the undersides of her breasts as he feathered his lips over her nipple.
"Come on, Matteo," she told him. Pleaded with him.
"I like that you're eager," he murmured.
"We're just getting started," Jared said, pulling her back, until she was reclining on his naked body.
He was a solid wall of flesh behind her—solid chest, tight abs, hard cock. His hand slid down between her thighs, his fingers teasing at the edge of her panties.
"Shall we take these off, Matteo?"
A sharp squeeze in her sex at the idea of being completely naked with them.
"Oh, yeah. Let me…"
Matteo sat up and ran both hands down over her sides, her thighs, and she parted them, wanting his touch, and Jared's.
"You are eager," Matteo said, smiling, his mouth soft and loose. He slid his fingers beneath the waistband and pulled down, slowly, slowly, his smile widening as her damp sex was revealed. "Ah, beautiful. You're so wet already." He pushed the scrap of lace down her legs. "I need to taste her, Jared."
"Yes. Do it."
Jared's hands came around her, held her thighs, moving them wide apart. Then his hands slid in, until he reached her swollen pussy lips, and he held them open with his fingers. She was shaking, desire coursing through her like flame, scorching her.
"I love to feel your thighs shaking," Jared whispered into her hair. "I love to see your nipples go dark and hard. I love to see you wanting. I'm going to love it even more when Matteo dives in and licks your sweet cunt. When he sucks on your hard little clit. When he makes you come in my arms."
"Oh…"
She was too dizzy to speak. She could only watch with heavy-lidded eyes as Matteo did exactly as Jared had said he would. He leaned in, and his dark hair was like strands of silk on her thighs as he licked her, his tongue wet and impossibly hot. All the way up her slit, then down again. Gently, so softly it was driving her mad immediately. That, and the safety of Jared's strong arms around her, his fingers hurting her a little as he held her open for Matteo's searching mouth.
She could not believe this was happening. She could not believe how good this felt.
"I'm going to come."
"Not yet," Jared commanded. "Take a deep breath. For me. For us."
She inhaled, held the air in her lungs. But Matteo never stopped, his tongue assaulting her, pushing into her now.
"Yes, that's it, Matteo. Fuck her with your tongue."
That hot tongue pushed deeper, slid out, then in again, the rhythm pure, wet pleasure.
"That's so good, Matteo," she murmured.
Her hips arched into his mouth, and Matteo's hand moved around her waist, slipped behind her. Jared moaned as he shifted to let Matteo take his hard cock in his hand.
Jesus, she was really going to come.
"Jared…"
"Hold it back, my girl. I want him to stroke me. I want him to take us both to the edge."
"Oh, God…"
***
CONTEST!!!!
I can't have a book release without a contest to celebrate, so here it is:
Post about SUMMER SOLSTICE on your Facebook, Twitter, blog, or website, and be eligible to win one of two prizes! Just come back here and post, letting me know where you've talked about SUMMER SOLSTICE. But I also want to know what your reading preferences are: do you prefer twosomes, threesomes, moresomes? Do you think a twosome is more romantic, or do you believe you can still have a strong romance with multiple partners ending in a poly relationship? And do you care if the sex scenes are hot enough? Does it depend on the story?
Here are the prizes:
Prize #1: copies of the first two books in my Celestial Seductions series, WINTER SOLSTICE and SPRING EQUINOX.
Prize #2: A copy of my erotic menage story, TEMPT ME TWICE, along with my latest Harlequin Spice Briefs erotic train story, NIGHT MOVES!
I'll announce the winners here on Tuesday, August 17th, after I return from visiting the divine R.G Alexander. :)
***
I hope you'll all SUMMER SOLSTICE! And visit me today on author Kelly L. Stone's blog-I'll be running another contest over there. I'll also be on the Samhain Cafe Yahoo loop where I'll be chatting with readers, as well as on the Novel Works Facebook page all day. I hope you'll come by and visit!