by edenbradley
on Apr 7th, 2009
8 Comments »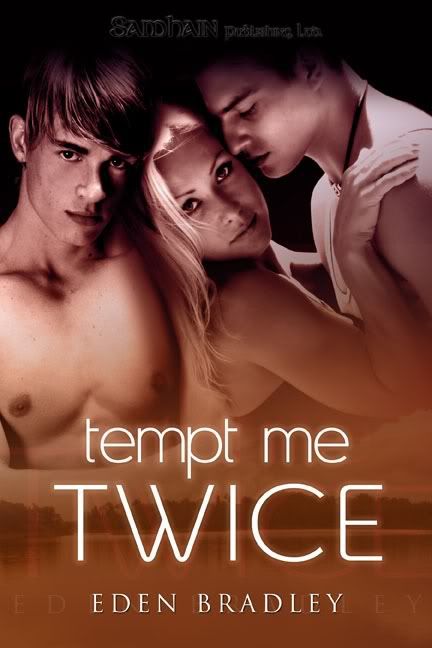 My latest release, TEMPT ME TWICE, is my very first hot menage story, and my first story from Samhain, and it's out today!
One hot man is good. Two's double the fun…until your heart gets involved.
Jessie has been in love with her bisexual best friend, Paul, since their college days. He's never made a move on her, though, and at this point she values his friendship too much to risk revealing her feelings. Especially since now he has a new male lover and seems so happy.
Paul and Noah have only Jessie's rest and relaxation in mind when they invite her along on a camping trip to Lake Tahoe. She's been pretty stressed out preparing to show her art at a major New York gallery. A weekend getaway will do her a world of good—and they won't take no for an answer.
Jesse thought she'd be nothing more than a third wheel on this trip. But Noah is as sweet and hot as Paul, and their first night turns into a heated tangle of bodies in the dark tent by the lake.
It's an erotic, intense experience that must come to an end. And when it does, will she still have her best friend?

Warning: Explicit and unusual sex in nearly every possible combination: boy on girl, boy on boy, boys on girl, with a little anal action and some spanking thrown in just to keep things interesting!
* * *
Want a little peek inside? Okay, but only for you…
* * *
Somehow, an hour later, she was in Paul's black Jeep Cherokee, roaring up Highway 80 on the way to Lake Tahoe. Music blared from the CD player, the windows were down to let the fresh summer air in and she was more relaxed than she'd been in months.
"So," Noah started, "tell me how you two met."
"I picked her up in a sex ed class," Paul said, winking at her over his shoulder.
"Hah. Hardly. I was his English tutor."
"Yeah, but my version is so much sexier."
Why did he have to say something like that? When had things between them ever been sexy, other than in her vivid imagination?
"You've known each other a long time then," Noah said.
"We've been friends for ten years." Paul turned again, flashed her a quick smile, and her insides melted as always.
"Why just friends? Or has something more ever happened between you two?"
"No, nothing," Paul was quick to answer, then they were both silent.
Noah looked from Jessie to Paul. "Sorry. Not my business. I shouldn't have asked."
"It's okay," Jessie told him. "It's a reasonable enough question."
One she'd never been able to answer.
"What about you two? You met when Paul went to Quebec to pick up that T-bird, right?"
Noah nodded, smiled, a brilliant flash of strong white teeth.
Beautiful man.
"Yeah. He came into the bar where I was having a drink with an old friend. I'm really not usually the bar type. But Paul walked in, the hot American import. I liked him right away. I still do."
He reached out, stroked a hand over Paul's T-shirt-clad shoulder, and a rush of envy went through her. If only she could touch Paul so casually, express her desire for him so openly.
If only Noah would touch her like that.
Jesus. She really was a mess. She didn't even know who she wanted. And nothing was going to happen anyway. She may as well get over it.
But she was wet, aching, as much as she'd been in the shower.
They reached their campground on the edge of Lake Tahoe in another four hours, parked and got out of the car. The sun was lowering in the sky, casting darkening shadows over the crisp blue, touching the water in the lake with silver. Fir trees surrounded the lake, which sat like an enormous blue bowl, cradled by the surrounding mountains.
Jessie raised her arms over her head and stretched her back, breathing in the crisp, clean air. So gorgeous here. She was glad she'd come, despite her uncontrolled surges of lust. Paul came around the side of the car and slid an arm around her shoulders.
"Can I tempt you to get some food ready while we put the tent up?"
He could tempt her into doing almost anything, if only he knew it.
"Sure. I saw the ice chest in the back. I'll take care of it."
They spent some time getting the campsite together. The sun dove into the horizon in a blaze of summer sky glory. Shades of pink, amber and gold cast long shadows against the trees, touching the boughs with color, before sinking, leaving them in darkness other than the light from the fire they'd built and the two Coleman lanterns, the faint glow from the other campsites.
Dinner was simple, pan-fried steak and potatoes wrapped in foil and baked in the fire, a bottle of wine followed by another. Conversation was easy. Noah was easy to be with, warm, friendly, open. He and Paul sat side by side, laughing, touching, yet somehow still making Jessie feel included.
She'd had too much wine, but it didn't seem to matter. Paul and Noah would take care of her, she knew. She could let go, for the first time in far too long.
Finally it was time to settle in for the night. Paul helped her to her feet.
"Whoa, Jess. Hang on."
"I'm okay. Just have a nice little buzz going."
"Maybe more than a little." He grinned at her.
"Maybe." She grinned back, her body going warm all over as he looped an arm around her waist.
They moved to the tent, and Noah held the flap back for them. It was a large tent, almost tall enough for Paul to stand up straight in. Noah was already spreading out their sleeping bags, Paul's in the middle. Jessie sat on hers to take her shoes off.
Paul yawned, stretched.
"Anyone else tired?"
"A little sleepy from the wine," Jessie said.
"Me too." Noah pulled his shirt over his head, revealing tight abs and a wide chest. She could make out his muscle tone even in the dim light of the single lantern they'd taken into the tent with them.
Paul stripped his shirt off too. She'd seen him without a shirt before, and it was something she never got over. The lean lines of his body, his smooth skin, his nipples dark, surrounded by a sprinkling of black hair. She wanted to put her mouth there, to suck…
Stop it. Time to sleep.
The men stripped down to their boxer-briefs, and she could see they were both hard, aroused. She squeezed her thighs tightly, her sex burning with need.
Paul glanced at her. "You're not sleeping in your clothes, are you, Jess? It's too hot."
"Um…I guess not."
She shrugged, wiggled out of her jeans, leaving her in her tank top and her underwear. It wasn't that she was ashamed of her slim body. But they were all nearly naked together, and as Paul lay on the sleeping bag next to hers, she could swear she felt the heat from his big body. His scent, warm on the night air. And more faintly, Noah's scent, fresh and all male.
How was she ever going to get to sleep?
* * *
Buy it now!